We all want to snack on healthy food options, even when we have to munch on them while we're on the run. And when it comes to on-the-go healthy snacking, no name comes close to Kind Bars.
These delicious treats are packed with all the essential nutrients and vitamins that you'd be surprised by how they were able to pack them all in snack-sized bars. They usually contain fruits and grains to aid our digestion while also giving us the essential nutrients we need for our day-to-day activities.
With that said, there's no denying that these snack bars are among the healthiest out there. But for vegans, the real question is this: are Kind bars vegan? That's what we're here to find out.
In this article, we'll introduce you to the company behind these treats and answer the question as to whether or not they contain any animal product or byproduct.
What Are Kind Bars?
Before we dig deeper into what Kind Bars contain, let's first talk about Kind bars and the brand behind them.
Kind bars are snack bars that are made by Kind Healthy Snacks containing healthy items such as fruits, nuts, and grains. That makes them a healthy source of vitamins, minerals, and nutrients such as protein, fiber, and antioxidants.
The company behind this initiative is known as Kind LLC or Kind Healthy Snacks and has been around since 2004. With the belief that everyone should be familiar with what goes inside their bodies, the company created nutritionally dense snack treats made from whole nuts, whole grains, and fruits.
Kind Healthy Snacks is committed to being transparent in what goes into every Kind Bar, so we know exactly what each contains. They also promise that all their snack bars contain zero artificial flavors, preservatives, and sweeteners – and that makes it the healthier snacking alternative.
Without a doubt, Kind Bars are the mouthwatering treats that you would want to snack on guilt-free.
What do Kind Bars Contain?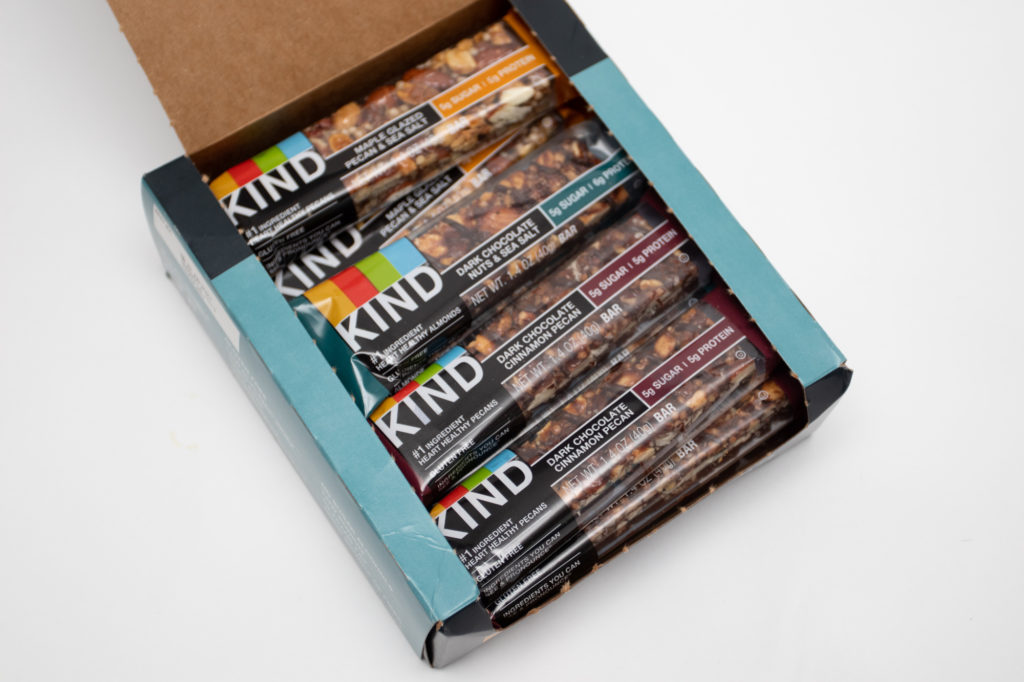 What we love most about Kind Bars is that everything seems to be detailed. With just one look at the label, you know exactly what it contains, and that lets you know whether it's suitable for your consumption or not.
In general, Kind Bars contain nutrient-rich ingredients like nuts, grains, and fruits. Nuts like almonds, peanuts, cashews, and walnuts are among the most common ingredients. Fruits, including its dried and juiced forms, are also added, mostly including apples, mangoes, bananas, raspberries, peppermint, and so much more. As for whole grains, Kind Bars also use quinoa, milled rice, oats, and other cereal grains.
By looking at these three main ingredients alone you might realize that these are all plant-based. However, several components go into each bar that may be derived from animal products or byproducts.
Since Kind Healthy Snacks have sworn off artificial sweeteners, it often uses the natural sweetness found in honey. Since honey is produced by bees, that should alert us that not everything is plant-based.
In some cases, the Kind Bar could also contain dairy products like milk or whey. And that's also telling us that it can't be considered vegan-friendly.
Are Kind Bars Vegan?
Now that you have an idea of what goes into each Kind Bar, we can finally address the question: are Kind bars vegan? We have to give a qualified answer.
In general, we could say that most Kind Bars are not vegan. Even the company has addressed this, and they said that most of their nut-based and whole grain-based treats contain honey – a known animal byproduct – and that already removes them from the vegan-friendly category.
Nevertheless, that doesn't mean that we should lose hope. The brand recognizes the varying needs of its consumers, which is why it has also made some of its products vegan-friendly. Particularly, all items from their Whole Fruit bar collection and some Healthy Grains clusters can be considered vegan-friendly. We'll tackle these products in more detail later on.
So, to finally give you an answer to this popular question, we have to say that Kind Healthy Snacks do offer vegan-friendly products.
Vegan Kind Bars
While not all Kind Bars are vegan, it does offer a decent range of snack bars that are suitable for our consumption. For your reference, here are the vegan Kind bars for that guilt-free snacking.
Kind Whole Fruit Mango Apple Chia. Featuring a delicious combination of mangoes and apples pressed together into a delightful snack bar, this Kind bar is sure to leave us feeling satisfied. The best part about it is it does not contain gluten and nuts, making it the perfect choice for people with certain allergies.
Kind Whole Fruit Strawberry Apple Cherry Chia. If you're looking for something to alternate with your Mango Apple Chia, then this tasty treat is for you. Featuring the natural flavors of apple, strawberry, and cherry, you're bound to enjoy each bite of this healthy fruit.
Thanks to its natural sweetness, Kind doesn't have to add any form of artificial sweetener to enhance the flavors. It's also GMO-free, gluten-free, and nut-free, so you know it's perfectly safe for your consumption. It's also low fat and low sodium, and that makes it the perfect guilt-free snack for vegans and non-vegans alike.
Select Kind Healthy Grains. For those looking for a high-fiber snack, these Kind bars will be perfect for you. Each bar contains around 9 grams of dietary fiber, thanks to its rich combination of whole grains. It's also low sodium, gluten-free, and does not contain any genetically engineered ingredients.

Among the Healthy Grains flavors that are vegan is the Cinnamon Oat Granola with Flax Seeds, the Vanilla Blueberry Granola with Flax Seeds, Peanut Butter Whole Grain Clusters, Maple Quinoa with Chia Seeds, Dark Chocolate Clusters, and the Raspberry Granola with Chia Seeds.
Kind Healthy Snacks acknowledges that its Kind Healthy Grains Oats & Honey and Kind Healthy Grains Almond Butter Whole Grain Clusters contain honey and are not included in this vegan-friendly list.
Kind Breakfast Protein Peanut Butter Banana Dark Chocolate. If you're looking for a tasty breakfast bar to kick-start your day, this is the perfect choice for you. This high-protein snack creates the perfect balance of flavors, with its combination of peanut butter and dark chocolate. It also contains 100% whole grains to give us the necessary amount of dietary fibers our body needs.