Going vegan doesn't mean that you have to miss out on anything in life. While our diets require us to be more cautious and stay away from animal-derived products, we can still make the most out of everything that we do.
Take picnics, for example. Some people have the misconception that you can only enjoy a picnic with non-vegan food. That's not the case at all. Remember that we now live in an age where we can easily find plant-based alternatives to meat and other animal-derived products, so it's definitely possible to whip up a delicious vegan meal.
To prove our point, here are some vegan picnic ideas that you might want to consider.
Easy Vegan Picnic Food
Vegan picnic food doesn't need long preparation times. If you're in a hurry to pack what you need, here are some easy vegan picnic food ideas that you can whip up in no time.
Pasta Salad
One of the easiest yet most satisfying foods you can take to a picnic would be a pasta salad.
This versatile salad only uses the pasta of your choice, along with a variety of vegetables and herbs that you can customize according to your taste. You can also opt to use vegan-friendly salad dressing if you prefer a creamy salad, or vinaigrette if you prefer tangy flavors. That goes to show that it's one of the most versatile salads you can make.
But before you make your pasta salad, make sure that the pasta you're using isn't made with eggs. Also, you can add more elements into the salad to give it more texture, such as nuts, vegan croutons, sliced tomatoes, corn, and so much more.
Without a doubt, you'll come home full and satisfied after chowing this down at the picnic.
Potato Salad
Everyone loves a good potato salad. It's a healthy snack dish that's easy to make, so you don't have to be a chef or a seasoned home cook to prepare it.
The best part about a potato salad is how versatile it is. Just boil, peel, and dice the potatoes, add other herbs and spices, toss in your favorite vegan salad dressing, and you're done. you can also add other ingredients into the mix, like onions or nuts or avocados – whichever best suits your taste.
Because of how simple, tasty, yet nutritious it is, potato salads have become a picnic staple. Whether you're vegan or not, you're sure to love this great dish.
Fruit Salad
Without a doubt, fruit salad is one of the easiest picnic foods to make. Simply peel and slice your favorite fruits, toss maple syrup in it, and mix. That's all there is to it – and you're bound to finish it within a few minutes.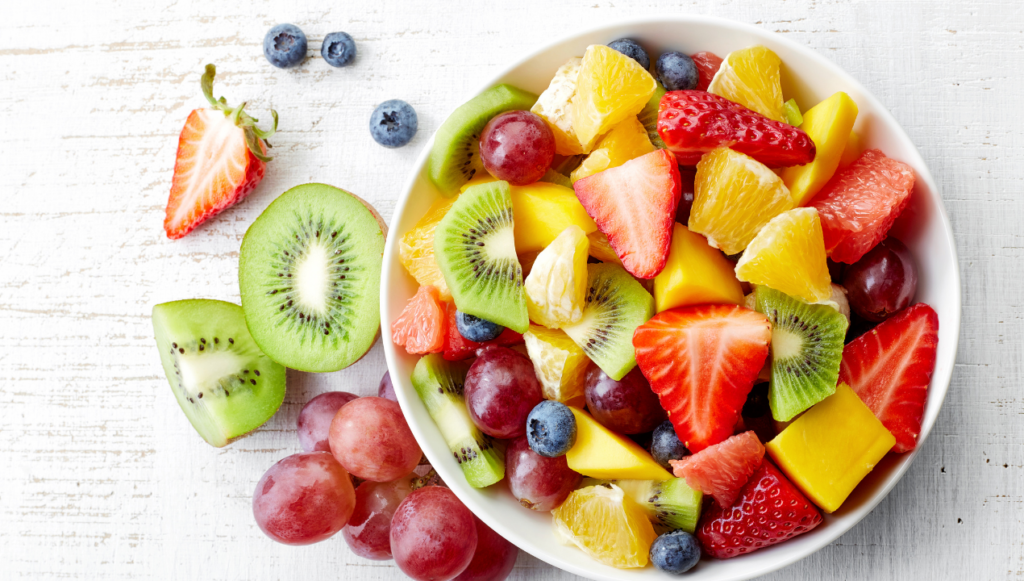 The best part about it is that there's no right or wrong recipe for it. It can be as versatile as your taste buds would suggest. For the perfect blend of flavors, we recommend adding apples, papaya, kiwi, seedless grapes, seedless oranges, and banana into your salad.
Cucumber Avocado Salad
Aside from fruit salad, the cucumber avocado salad is another easy salad that you can create in minutes.
As its name implies, it mostly consists of sliced cucumbers and avocado and sprinkled with lemon juice to add a little tanginess. You can also alternate the lemon juice with vinaigrette or other vegan dressing. It's that easy.
But, if you prefer to add more flavor and texture, you can also chop up some spinach, shallots, and peanuts. You can also add some sliced chili peppers if you prefer a little bit of heat in your salad.
Chickpea Salad
This colorful salad can be easily made by tossing chickpea, tomatoes, and avocado into a bowl to get that mouthwatering high-protein snack food. You can also add other herbs and your favorite vegan-friendly dressing to bright out more of the flavors to make it more interesting.
The best part about this salad is that it only takes around 15 minutes to prepare and can already feed everyone at the picnic. We also love how versatile it is – whether as a side dish or a main snack, everyone is bound to enjoy it.
Zucchini Roll
Zucchini wraps are healthy and delicious snack food that you can serve at your next picnic.
Here, you have to thinly slice the zucchini lengthwise, then roll it along with your favorite vegetables and herbs to give it more flavor. Then, simply use a toothpick or a cocktail umbrella to hold the roll in place.
This allows you to create bite-sized rolls that are easily a hit at every picnic. You can also add some fruits like mangoes and kiwi into the roll to give it a bit of sweetness.
Corn Guacamole
You can't go wrong with guacamole. Whatever it is you're planning to dip into it, guacamole is an undeniable picnic staple.
To take your guacamole game up a notch, why not add some corn into your creation? The corn adds a bit of sweetness to complement the zesty flavors of the guacamole, giving it a refreshing take to an otherwise common dip.
Grilled Vegetables
We can all agree that snacking on raw vegetables is both tasty and nutritious, especially if you're dipping it in tasty vegan-friendly sauces. But did you know that there's a way to make these vegetables more savory and flavorful?
We're talking about grilling them. grilling vegetables help bring out their natural juices, making them more flavorful. Plus, if you're brushing it with some marinade from herbs and spices, you're sure to enjoy such mouthwatering flavors.
Popular choices for grilled vegetables include asparagus, tomatoes, mushrooms, and bell peppers. You can also grill it with some shallots for added flavor.
To take your grilled vegetables up a notch, you can also whip up a vegan-friendly chimichurri sauce. That will make you feel like you're enjoying a hearty barbecue with the family.
Vegan Picnic Snacks
Aside from the deliciously heavy meals we mentioned above, you can also pack some vegan picnic snacks for something light to nibble on. Here are some of our favorite picnic ideas.
Vegan Snack Board
If you want your picnic to look picture-perfect, you need the perfect vegan snack board as a centerpiece. This will be like a vegan version of the Charcuterie Board.
Simply grab a board and arrange your favorite snack items on it. We recommend adding fresh vegetables, fruit slices, and nuts to give it an interesting pop of color. You can also add vegan crackers, cookies, and cheese to offer more variety.
Now, who said vegans don't know how to do a picnic? This vegan snack board will prove them wrong.
Oat Bars
Another vegan snack idea that you can take to the picnic table is oat bars. These fiber-rich snack treats are tasty and versatile, making them the perfect choice if you're picnicking with kids.
The best part about oat bars is that you can make them yourself with the many recipes available online. You can even opt to customize the recipe and add fruits and nuts into the mix to make it more interesting.
Alternatively, there are several manufacturers of vegan oat bars, so you can easily shop for them if you're running out of time.
Peanut Cookies
An alternative to oat bars is peanut cookies. If you're not a fan of fiber-rich snack bars, then these protein-filled cookies may be more to your liking.
If you're making it yourself, make sure that all the ingredients are vegan-friendly. In the alternative, there are peanut cookies available at your local vegan grocery store that you can pick up if you're in a hurry.
Beet Hummus
If you're a fan of snacking on vegetable slices, why not take it to the next level and dip them in deliciously creamy roasted beet hummus? Aside from adding more flavor to your veggie slices, it adds the perfect pop of color to the plate, making your picnic picture perfect.
The best part about this hummus is that it only takes around 10 minutes to make. Just roast a small beet then puree it with cooked chickpeas, lemon juice, lemon zest, garlic, tahini, pepper, salt, and olive oil until it becomes a creamy paste. That's all there is to it to this delicious dip.
Artichoke Hummus
If you're not a fan of beet, then artichoke would be a tasty alternative. Just replace the roasted beet with artichoke hearts and follow the same pureeing process above. You can easily do it with a blender or a food processor.
To add a little bit of color to your artichoke heart hummus, you can add chopped parsley on top.
Vegan Picnic Sandwiches
Vegan Picnic Sandwiches are among the easiest to make. Just prepare your vegan-friendly bread, some lettuce, vegan cheese, and your choice of meat alternative and you're good to go. Here are some of our favorite yummy vegan sandwiches.
Chickpea "Tuna" Sandwiches
What we love most about chickpea is how versatile it is. It can easily mimic the flavors and texture of certain meats, and the fact that it's high in protein makes it a great plant-based alternative.
Fortunately, some manufacturers are producing tuna alternatives using chickpea, and that's exactly what we're using for this sandwich. You can also add a vegan cream filling, onions, avocado, and lettuce to make it more delectable. We promise, even kids won't get enough of this sandwich.
"Chicken" Sandwich
If you're not a fan of seafood-flavored sandwiches, then perhaps you and your family would prefer the all-time comfort food – the chicken sandwich.
Fortunately, there are numerous producers of chicken alternatives for you to choose from. You can either go for "chicken" slices or larger cuts that you can deep-fry into a chicken burger. Top this off with some tomatoes, lettuce, and vegan cheese, and your picnic will be a success.
Vegan Sausage Sandwich
Aside from chicken and tuna alternatives, we have also come across a variety of vegan sausages. These sausages are made with soy, chickpea, and similar plant-based ingredients, so you can consume them guilt-free.
You can choose to fry them or grill them, making them quite a versatile snack. They're also packed with mouthwatering flavors that even the pickiest eaters will enjoy. If you're going on a picnic with kids, vegan sausage sandwiches are the way to go.
Impossible Burger
And finally, we have the impossible burger. This is perhaps one of the most popular meat alternatives we've ever come across. You can buy the Impossible Meats yourself and prepare them at home, or you can buy them at your nearest restaurant chain that has partnered with the brand.
If you're in a hurry to prepare the food you'll bring to the picnic, this seems like the practical choice for you.
Vegan Picnic Refreshments
No picnic would be complete without bringing any refreshments with you. While water is excellent for hydration, you can also try these tasty vegan drinks to take your picnic to the next level.
Vegan Smoothies
Smoothies are a healthy source of nutrients, given that they're often made from fruits and vegetables. The best part about it is that there are numerous vegan smoothie options in the market, so you'll surely find the recipe that best suits your taste.
For the best results, we recommend using organic produce to make sure you're drinking something free from pesticides and other chemicals.
Vegan Milk Shakes
Aside from vegan smoothies, you should also try making vegan milkshakes. These milkshakes are often made with fruits and plant-based milk like soy, almond, or coconut milk – so you're assured that it's 100% vegan.
Freshly Squeezed Fruit Juice
Out of these refreshment ideas, the easiest to make would be freshly squeezed fruit juice. These are especially popular if you're planning to enjoy the sweet-tangy flavors of lemonade or orange juice. if you have a juicer at home, you'll have more fruit options like apple, pineapple, berries, grapes, and so much more.  
Vegan Coffee
Aside from fruit-based drinks, you can also enjoy a cup of your favorite coffee. Remember that coffee beans are plant-based, so having an americano, espresso, or cold brew is perfectly vegan.
On the other hand, if you choose to add milk to your coffee, make sure that it's any of the non-dairy alternatives. With soy, coconut, oat, and almond milk to choose from, you won't be missing out on your favorite coffee drinks. 
Vegan Picnic Ideas – Summary
A picnic is a fun way to enjoy the outdoors with family and friends. If you're planning to have a vegan picnic, there are plenty of food and drink options for you to choose from.
With these ideas in mind, you're one step closer to having the perfect vegan picnic!