The vegan lifestyle isn't only about eating vegan-friendly food but also buying and wearing cruelty-free materials or, in other words, vegan clothes.
When choosing winter and fall wear, particularly sweaters, finding items that don't contain wool or other animal-based materials might seem like a challenging endeavour. However, you'll find several brands that offer vegan collections to cater to your needs, especially since the vegan industry is continually rising.
If you want to find the best vegan sweaters without exerting too much effort, check our guide, and take your pick from the collections we've listed in this review!
---
At a Glance
---
The Best 6 Vegan Sweaters in 2022
Now that you have a general overview of what we're about to review, let's get into the details of each and why they precisely made it to this list.
1. Petit Vour – Most Vegan-Friendly
Although they might offer a limited sweater collection, Petit Vour fares better than any other brand in terms of vegan-friendliness and non-cruel material usage. Unlike other collections, all of the materials used on their sweater collection is 100% vegan. 
They also list the percentages of all the materials used in every piece, so you'll get a full picture of how much they're utilizing in each item. Take a look at the list of vegan materials Petit Vour is using in the making of their sweaters:
Polyester
Rayon
Spandex
Cotton
Acrylic
Tencel
On the other hand, Petit Vour doesn't offer the most extensive size range out there. However, if your size falls between XS and M, you should be fine. When viewing their winter wear, you'll find details on the size and height of the models wearing the sweaters, so you can use that as a reference point. 
Their designs are pretty neat and flowy, with some ties at the front. If you're looking for turtlenecks, mock necks, crop sweaters, or ¾ sleeves, the Petit Vour sweater collection should be your go-to option. 
Although you might find their sweaters a bit short, they'll warm you up in the coldest days of winter when paired with high-waisted pants. You'll also find various nude and neutral colours that are suitable for both winter and fall.
As for their price range, it's relatively moderate. Considering that most vegan products' price range is relatively high, Petit Vour does an excellent job keeping their vegan sweaters affordable.
2. Groceries Apparel – Runner-Up

Groceries Apparel provides a collection of essential winter wear with eco-friendly materials, though they don't necessarily have to be vegan. 
The brand uses organic cotton, for instance, which they confirm is GOTS certified. They also use Eucalyptus Tencel – a popular vegan material. Despite that, you might find recycled plastic on their list of fabrics of some of their sweaters. Although this is a sustainable material, it's not a vegan solution. 
Plastic, paints, glues, and rubber are chemicals that usually contain animal products. Therefore, if you want to avoid non-vegan sweaters altogether, be sure that you read the list of ingredients before making a purchase.
Groceries Apparel offers a great range of sizes: from XS up to XL. You'll also find the exact measurements of each model highlighted to help you pick the perfect fit. This brand offers a unique variety: striped turtlenecks, crewnecks with sleeve details, sweaters with side vents, oversized sweaters, and cropped sweaters. 
If you want to get into the spirit of winter, you'll find Groceries Apparel's collection to your liking. The colours of their pieces lean toward earthly tones and darker shades. However, keep in mind that these sweaters aren't exactly budget-friendly.
3. Reformation – Best Variety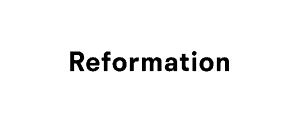 Are you looking for variety and unique designs? Then the Reformation sweater collection might be what you're looking for. Check out this list, which includes the materials of their sweater collection.
Non-Vegan Materials
Cashmere
Recycled Cashmere
Alpaca Wool
Recycled Alpaca Wool
As you can see, Reformation's collection of sweaters isn't entirely vegan, but it's still sustainable. Nevertheless, you can view the percentages of all the materials used in manufacturing sweaters. Make sure to read the labels, and you'll know everything you need.
Even though their sweater collection isn't 100% vegan, they use recycled materials. You can also find the sustainability impact of a particular sweater along with other information related to fabric. For example, one sweater might save 4 gallons of water and 8 pounds of carbon dioxide.
As we mentioned above, Reformation provides an array of sweaters of various designs to suit the needs of everyone. This collection includes cropped sweaters, open-back sweaters, boyfriend sweaters, V-necks, polo sweaters, faux wrap sweaters, sleeveless sweaters, two-piece sets, puff sleeve sweaters, short sleeve sweaters, and much more!
As you browse this impressive collection, you'll find equally remarkable and unique colour variants tailored to the needs of most customers. If that's not your cup of tea, you'll still find standard vibrant reds, oranges, and yellows. 
When quality, quantity, and variety come together, it's expected that you would get excellent products, which is why the price tags on this collection may be a bit on the expensive side, even more so than Petit Vour and Groceries Apparel. Nonetheless, it's money well spent!
4. Everlane – Budget Pick
It might seem impossible to find quality vegan sweaters at affordable prices, but Everlane has made that come true! This brand features a great sweater collection, among which you can find affordable vegan sweaters with the highest quality. 
Unfortunately, not all of their sweaters are made of vegan materials. In fact, you might find Alpaca wool and cashmere quite frequently on their sweaters' lists of fabrics, but you can also find cruelty-free materials, like cotton, nylon, and elastane. 
Everlane offers the most flexible size chart, which ranges between XXS and XL, so you'll surely find the vegan sweaters you need, irrespective of which design you choose. 
Everlane also provides a wide variety of sweaters. You'll find all the basics you need there, but it still fares best when it comes to unusual colours. You can buy mint green, grey, white, black, jade, baby blue, and indigo sweaters, which will all be an exciting addition to your winter wear. 
All in all, this is an excellent pick if you're looking for budget-friendly sweaters and know what materials to avoid. Note that you should check the labels after purchasing the product, as material percentages may vary slightly compared to those listed on their website.
5. prAna – Best for New Vegans
prAna has a small collection of vegan sweaters but uses excellent grade vegan material. Here's a list of the vegan materials of prAna's collection:
Organic cotton
Tencel
Nylon
Spandex
Recycled Polyester
It should be noted that prAna has wool sweaters, and even though they're made of sustainable, recycled wool, it's still a non-vegan material, so be sure to steer away from those if you want 100% vegan sweaters. Otherwise, it's safe to pick any of the wool-free models in their vegan collection. 
You can generally find sizes ranging from XS to XL, but plus sizes for a few designs, ranging from 1x to 3x, are also available. Moreover, you'll find a size chart to help you choose the right fit for you. prAna also offers a measurement guide to enable you to find your exact size. However, if you're still unsure, you can always fill out their customer care form and wait for them to get back to you.
prAna sweaters have their own chic styles: striped sweaters, basic sweaters with colour pops, V-necks, and turtlenecks. As for colours, you'll mostly find the standard earthly and neutral variants in addition to vibrant colour blocks made of honey yellows and corals. 
Price tags are relatively average, and the material quality is also superb, so if you're planning to make your first vegan sweater purchase from prAna, you'll undoubtedly get a bang for your buck!
6. Made Trade – Premium Pick
Although they might not have the most extensive sweater collection, Made Trade does have unique sweaters that cater to every vegan's needs. Their male sweater collection is equally limited but is made of premium materials and top-notch quality. Here are some of the materials used in Made Trade:
GOTS-approved organic cotton
Elastane
Recycled Polyester
Rayon
Bamboo
Because this is a vegan-friendly brand, you'll also find sustainable materials there. However, as always, wool sweaters, recycled or otherwise, aren't vegan friendly, so be sure to avoid them. 
Made Trade has a decent size chart (XS-L), but no smaller or plus sizes. Yet, for the available sizes, the brand offers exceptionally comfy designs for both men and women. Boxy sweaters with wide sleeves or knit sweaters will cater to your winter and fall needs. Male sweaters come with an athletic fit with distinct raglan sleeves, V-necks, and stylized side panels.
There are no flashy or overly vibrant colours in Made Trade's vegan collection. Instead, you'll see dark burgundy, light grey, forest green, and midnight blue.
With this brand's designs, you'll get premium quality, which is why Made Trade's vegan sweaters are more expensive than any other option on this list. However, they make up for it through incredible durability and quality, so you'll definitely get your money's worth.
---
How to Choose Vegan Sweaters
When it really comes down to it, how do you choose a vegan sweater? Is it just by picking a design you like and a colour you've been yearning for? In fact, several aspects need to be considered, especially for vegan sweaters. So, read below for all you need to factor in as you take your pick!
Prioritize Your Needs
It's safe to assume that you already have some expectations regarding which type of sweaters you want to buy. As you can see in this guide, vegan sweaters come in all shapes and sizes, so there won't be a problem finding that particular design you want. 
However, you should also prioritize your budget. As evidenced by the information here, vegan sweaters and vegan clothes, in general, aren't cheap, so you'll need to set up a budget first and understand how many pieces you can get. This way, you'll be better able to manage your expectations.
Read the Labels
We can't stress this aspect enough. Reading the labels when purchasing vegan sweaters is of the utmost importance. As mentioned earlier, some percentages of certain materials can change depending on the product you're buying. Therefore, you'll have to look at the labels once you get the product, and not just on the brand's website before checking out.
You should also be aware of common vegan materials, like, cotton, Tencel, hemp, linen, bamboo, Nullarbor, and soybean fiber. Once you've familiarized yourself with these materials' texture and feel, finding vegan sweaters will be a walk in the park.
Check Size Charts and Vegan Fabric Guides
You can't choose a sweater without knowing your exact measurements or size. Some sweaters might be baggy, so you'll have to get a smaller size than you usually do, in that case. 
Most of the brands mentioned here offer size charts for their vegan sweaters, eliminating the possibility of getting the wrong size. It would help if you also looked up measurement guides to stay on the safe side.
If you're new to the vegan lifestyle, you'll probably need to use fabric guides for a while until you become acquainted with the most used vegan textiles. You can either check a brand's list of vegan materials or search for them on third-party websites online.
Learn the Industry Standards
It goes without saying that there are some rigid standards in the clothing industry that anyone should know about. For example, knit sweaters are always made of wool. By knowing that, you'll be able to avoid non-vegan sweaters without having to read the labels of all products meticulously.
Knowing the industry vegan clothing standards should tell you that vegan materials used the most for manufacturing vegan sweaters are organic cotton, linen, rayon, or polyester. You'll find a blend of these materials more often than not since most manufacturers include them to enhance the products' quality.
Look for the PETA-Approved Logo
The PETA-approved logo is like a stamp of proof that a particular product, collection, or brand is sustainable and uses animal-friendly materials.
Nowadays, multiple companies are using the PETA-approved vegan logo to help customers easily purchase vegan-friendly items. This means that if you find a sweater with the logo attached to the info, you can purchase it without having to read the labels carefully. 
The PETA-approved logo can be used on single products, on a whole collection, or even an entire brand. Companies typically use this logo on their social media accounts, signs, product labels, or ads, so you can look for it in any of these media to ensure that you're purchasing PETA-approved sweaters.
Avoid Non-Vegan Materials
By now, you must have a rough idea of which materials to avoid, but here are all of these items for you to carefully consider.
All types of leather and exotic skins are categorized as non-vegan materials. Wool, Cashmere, Mohair, Angora, and Shearling are also the same, as they're made of animal-based materials even if they're synthetic. Of course, fur, silk, and feathers used for decoration must be avoided.
Again, this will help you identify non-vegan sweaters or any other non-vegan clothes without having to resort to material guides since the distinctions are glaringly obvious. 
Pick Trusted or Local Sources
Nothing beats buying from a trusted or local vegan business, as you won't have to worry about the quality and vegan-friendliness of these sources. 
You should have at least three or four sources for vegan clothes to resort to because some complications might come up along the way. For instance, you might not be able to afford a specific vegan company or find the particular colour you're looking for.
Generally speaking, online shopping at vegan stores is the optimal method to find the best-trusted sources. This process takes a lot of time and effort, but you don't have to worry about that, as the sources mentioned here are all excellent.
Local animal-rights groups might also give you pointers on the best local sources to buy vegan clothing from.
---
Vegan Sweaters FAQs
How Do I Know if a Brand Is Vegan Friendly?
There are different ways you can go about this. Vegan brands are either included on online vegan lists, sport the PETA-approved logo, or their labels explicitly say "vegan" or "suitable for vegans."
Which Types of Sweaters Vegans Don't Wear?
Honest-to-heart vegans don't wear any sweaters made of cashmere, angora, merino wool, mohair, camel hair, qiviut, Shetland wool, or lambswool. They also don't wear garments made of synthetic fabrics that might contain animal-based materials.
Why Are Vegan Pieces More Expensive?
Simply due to the lower demand. Although there are thousands of vegans out there, vegan sweaters and pieces, in general, are yet to be considered non-niche products. Vegan companies are also producing small batches manufactured with unique materials, making plant-based fabrics cost more than animal-based ones.
---
Vegan Sweaters: A New Addition to Your Wardrobe?
With all that said, you can take your pick from our list, and you definitely won't regret making your purchase! If you're planning to go fully vegan, consider the vegan sweater collection at Petit Vour. On the other hand, if you're looking for budget-friendly options, you can try the Everlane sweaters.
In all cases, you'll be purchasing a stylish vegan sweater and actively preventing animal cruelty, as minuscule as this change might seem. After all, these are the best vegan sweaters you can find today!