Animal activists will always support fashion labels that follow cruelty-free methods. For us, this is an unforgivable crime. The majority believe that fashion designers are usually against such causes because it seems like the brands that use real leather are the only ones expanding. 
However, many talented designers have been recognized for their excellent efforts to sustain an eco-conscious society. These designers provide models that combine simplicity and elegance without resorting to any unethical methods.
Do you wonder if you can walk around wearing a cute purse without feeling guilty about the innocent animals that paid for it with their lives? Well, you don't have to worry about it anymore! 
Check out these top-notch vegan designer bags that will leave you looking on fleek! 
---
Our Top Picks
Why Go Vegan? 
We all love how fancy and fashionable leather looks. However, no one can deny that manufacturers carry out some unethical practices to attain it.
Usually, popular brands resort to such deviotus methods to keep their products on the market. We get it; fast fashion makes it harder to maintain ethical standards. The truth is, it's more expensive and time-consuming to do so.
This is why being vegan is something that many people are recently adopting. While it helps some of us stay healthier, it saves many animals from suffering.
If most of us stick to a vegan lifestyle, we can minimize the malicious processes animals go through to get more leather. With respect to fashion and clothing, opting for faux leather is the sweet spot between holding on to noble standards and staying in style.
---
The 8 Best Vegan Bags in 2022
In this section, I'll go into the details of each bag in order to give you a clearer picture and help you decide which vegan bag best suits you.
1. Brave by Matt & Nat – Best Vegan Backpack
Matt & Natt comes on top of vegan brands that are not only concerned with abandoning cruel ways of getting leather, but they exert their efforts to use recycled materials and stay eco-friendly as well.
The name is inspired by (Matt)erial and (Nat)ure, and it's a Chinese brand. They make durable backpacks that are made of 100% polyurethane faux leather with recycled nylon lining. 
Being 14 x 10 x 6.5 inches, the backpack offers enough space to carry a 13-inch laptop. It weighs around 1.8 lb. only, so you can put many items inside it without worrying that it'll become too heavy to carry. The main compartment features a zip closure at the top.
Moreover, it comes with adjustable straps that extend between 17 inches to 35.5 inches. There's an interior zip pocket to keep your essentials like your cellphone, money, or even lipstick. It features two side slide pockets as well as an exterior zip pocket.
This backpack is available in five neutral colors, black, woodland, matcha, chai, and serene. 
Final Verdict
Matt & Nat offer chic backpacks that combine elegance and practicality. I would recommend no other for daily use on campus.
2. ELOISE by ANGELA ROI – Best Satchel Bag 
The ELOISE Series is inspired by the Australian long-distance runner, Eloise wellings. The athlete has won the Universiade competition and made it to the finals of many others, including the Olympics, World Cup, and World Championships. The line of the bag was named after her to symbolize dedication, class, and details. 
This bag is made of EPUL (Exquisite Polyurethane Leather) and features an 8.5 x 5.75 x 3.75-inch body. There are a top 9-inch handle and a 26-inch long strap. The gold accessories make the bag a bit heavier than expected (2 lb.), despite the small size. 
> Read more: The best Angela Roi products.
As for the design, there's a main compartment, a phone compartment, and a small zipper compartment. All these compartments are inside the bag, and there's a single exterior compartment on which you'll find a magnetic button to close the bag.
The top handle is detachable, but unfortunately, it's not adjustable. The shoulder strap, on the other hand, is both detachable and adjustable. The Eloise original bags are labeled with a red signet that's attached to the side. 
One last thing to mention is that the pebble texture combined with the beautiful nude colors make the bag look quite luxurious. You can choose between seven colors: black, light mud grey, ash brown, deep olive, ash rose, coral pink, and Biscay green.
Final Verdict
Although ANGELA ROI bags are a bit expensive, it's foreseen with high-quality designer bags. To find out more about their other vegan bags designs, click here.
3. Jenna by Melie Bianco – Best Belt Bag
If you've been into vegan clothing for a while, then you probably heard about Melie Bianco as they have been featured in many magazines, including Vogue UK, Glamour, Marie Claire, and even Oprah Magazine. Also, they've been mentioned in various successful TV shows like Good Morning America, Hart of Dixie, and Desperate Housewives.
In 2016, PETA UK awarded the brand for offering the "Best Animal-Friendly Accessories." Their goal is to stay cruelty-free yet provide fashionable designs. According to Melie Bianco, a handbag is "a form of self-expression, a mood booster, and a powerful statement."
The design we have here is, in my humble opinion, a masterpiece because –unlike most bum bags- it doesn't look cheap. It goes with any casual outfit, and you'll still look classy and chic. 
The belt bag features a zipper closure with silver-color hardware. There are two additional pockets, an inner one and a back pocket, both of which come with zippers as well.
The strap is adjustable and ranges between 21 – 46.5 inches, and the bag itself is 11 x 5 x 5 inches. Last but not least, it's currently available in three colors only. However, the dark grey and bone-color ones can pretty much go with any outfit. Other colors were previously produced, but only red is still available for the time being.
Final Verdict
If you're looking for a fanny pack to wear on your casual days while sticking to vegan leather, then the Jenna belt bag should be on top of your list.
4. Falabella Reversible Tote by Stella McCartney – Best Luxury Vegan Bag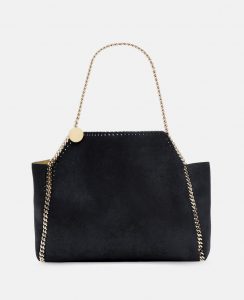 Stella McCartney is another well-established brand that started back in 1995. The designer has been awarded as the "Best Designer of the Year" multiple times and in different countries, including the USA, UK, and Spain.
The Falabella tote is one of the most convenient models by the brand, as it's wide enough to fit all your necessary belongings (14.6 x 11.8 x 6.3 inches). Besides, it looks as fancy as any other designer bag, even compared to the real leather ones.
The reversible design makes the bag more worthy of the price as you can match it with more outfits. Two colors are available, black and beige. Being a part of Stella's cruelty-free ethos, the bags are made of 100% polyester with 100% ECONYL recycled nylon.
It features the signature gold, diamond-cut chain, which adds more weight to the bag (2.01 lbs.). However, it gives it such a luxurious finish. The straps are non-detachable and non-adjustable. They're about 8.6 inches long. Additionally, there's a detachable pouch included in which you can keep your money and credit cards. 
Final Verdict
The Italian Falabella Reversible tote is for those who appreciate meticulous designs and fancy accessories.
5. Kensington by LaBante London – Best Crossbody Bag 
LaBante London goes an extra mile that makes the brand a bit more special than any other on the list. Every year, 10% of the brand's profits is donated to charities. They have supported PETA, Woodstock Farm Sanctuary, Yorkshire Wildlife Park, and other charities that rescue animals.
The founder, Vanita Bagri, decided to quit banking and pursue her true passions, fashion, and vegetarianism. In 2009, she started out LaBante London, and with much dedication, she managed to make it the success it is today without abandoning her beliefs or sorting to any unethical techniques.
The design we have here is one of LaBonte's bestsellers. It's made of 100% recycled materials. The gold hardware adds delicacy to the elegant design. Moreover, the details are tasteful with a V-shaped magnetic closure lid and double-chain straps.
The bag features a zipped interior pocket as well as an exterior one. It's 10 x 7 x 3 inches with a 21-inch handle drop. You can get this bag in three colors only, namely black, red, and nude. However, you can check this link for more designs from the same brand. 
> Read more: Best vegan crossbody bags.
Final Verdict
If you pick-up a LaBante London bag, you won't only help decrease animal suffering, but you'll be supporting charities that rescue animals and provide them with shelters.
6. Radhi by SAMARA – Best Weekender Vegan Bag
SAMARA is another excellent brand that's known for its simple yet elegant purses. Although PVC is one of the most popular materials used to make faux leather, SAMARA tries to limit its use. Instead, they use less toxic materials such as water-based PU or plant-based materials like apple leather.
The Radhi bag is designed for girls who like escapism and go on an overnight getaway every now and then. It's incredibly roomy as it's 18 x 10 x 8 inches. In addition, it features a luggage slider that allows the user to be hands-free while rolling their luggage.  The handle drop is about 6 inches, whereas the straps extend for up to 55 inches.
With respect to the design, you'll find many pockets to help you organize your belongings. There are three interior pockets, one of which can be zipped, and the laptop pocket can accommodate a 15-inch laptop. Moreover, the bag comes with two essential oil blends, a 50ml massage oil, and a 10ml essential oil roll-on.
The Radhi is of high-quality, and if you pay attention to details, you'll instantly admire the craftsmanship. It's available in five beautiful colors, including lavender, rose, loomi, cinnamon, and cardamom. 
Final Verdict
If you want to look good on your trips without torturing any animals, then opt for the Radhi Weekender with your eyes closed.
7. Lulus Chic Tote Bags – Most Affordable 
Lulus offers excellent prices yet excellent, luxury vegan bags. This design is for minimalists who don't want to break the bank to get a high-end designer vegan bag. 
It features a simple double-pocket design with magnetic closure. The slide-in pocket allows easy access to your gadgets like your phone or change.  The bag is available in white, denim blue, black, brown, and grey. It's made of 100% PVC, which explains the low price.
The Lulus tote bag is wide enough to accommodate your everyday essentials, extending to 11.5 x 10 x 4 inches. The strap is both detachable and adjustable. It measures about 38 inches when fully extended.
Final Verdict
Lulus designs are plain yet stylish. Even if they're not eco-friendly, they still make a great option for animal activists who appreciate fancy designs.
8. Michelle by PIXIE MOOD – Best Vegan Clutch
PIXIE MOOD offers amazing clutches that look sharp in your hands. This line comes in ten different colors, including tartan, apricot, black, black croc, cloud, sage, white croc, grey, satin grey, and satin blue.
These clutches feature a zipper closure with removable tassel zippers. You can use them as shoulder bags using detachable, double thin, shoulder straps. Also, they come with a detachable wristlet strap and adjustable crossbody straps.
Each clutch is 11 x 8.25 x 1 inch and features a recycled water bottle lining. The maximum crossbody drop handle length is about 29 inches. 
Final Verdict
Wearing a clutch is a must whenever you're going to a party or you have a special occasion. The PIXIE MOOD clutches will keep you looking luxurious without putting animals' lives on the line.
---
How to Pick a Vegan Bag
If you want to spend your money wisely, you should be aware of all the aspects to be considered before making any purchases. In this section, we'll list the features that matter the most while buying a vegan bag so that you can make an informed decision and get the best option possible. 
Size
The size should be the first thing that pops into your mind whenever you think about buying a new purse. There's no wrong or right here; at the end of the day, it's a matter of personal preference. Still, it's an essential factor to consider.
Bear in mind that the shape of the bag has a lot to do with its Size. For instance, square ones offer more space, whereas circular ones are the smallest.
Small bags are too restricting, and you might end up holding many things in your hands. On the other side, the very big ones will limit your movement and possibly, cause shoulder or back pain. 
Compartments 
Another thing to think about is the way your bag is divided from the inside. If you carry many things in your bag, having several sections will help you keep things organized. Also, smaller pockets help you keep your valuables, like money and passports, safe. 
Straps
Obviously, straps come in different designs, and of course, it's up to you to decide which the best is for you. Regardless, you should also think about the strap's length, especially if it's not adjustable. 
Typically, you'll find seven different types of straps on the market as follows: 
Wristlet straps: wristlet straps come with clutches and small bags, and they're designed for occasional use. 
Short Handle: These are hobo bags straps that extend for up to twenty inches. If you buy a bag that features this design, keep in mind that it increases the dropped portion.
Shoulder Straps: Shoulder straps are about thirty inches. They usually come with tote bags to keep you hands-free so that you can do other activities like filling an application or shopping.
Long Shoulder straps:  Crossbody straps: At 50 inches long, these traps allow the carrier to hang their bags crossway. The primary purpose of using these straps is to keep your bag secured. They're perfect for those who use public transportation or live in crowded cities and want to make sure their bags won't be stolen.
Extra-long straps: These straps are specifically designed for tall people, and they can also be used in winter when you're wearing heavy clothing. Usually, the straps can be adjusted to drop the length to 50 inches.
Adjustable straps: Adjustable straps come into designs; one is a trike light or slider design, and the other is in the form of punched holes on the back that allows you to choose the appropriate length. These straps could range from 28 to 65 inches, which typically allows the carrier to hang their bags on their shoulders or go with a crossbody style.
---
FAQs
Are Vegan Bags any Good?
In the past, people feared buying faux feather because it's much thinner and cheaper than the real one. 
Fortunately, as animal activists are increasing, PU (polyurethane) is becoming the most commonly used material in making vegan leather. It's plant-based and usually covered by an outer, water-resistant layer. In many aspects, PU offers improved quality and durability, especially when well-treated.
What are Vegan Bags Made of?
As mentioned earlier, most faux leather bags are made from polyurethane. Yet, some designers use other materials like cork, apple peels, recycled plastic, pineapple leaves, and other fruit wastes.
How Long Does Vegan Leather Last? 
Typically, vegan leather lasts for three to five years. However, it can have a longer lifespan if you care for it.
---
Final Thoughts
With all that's been said, it's clear to see that finding the best vegan designer bag isn't much of a pickle. On the contrary, there are plenty of designs to choose from depending on your style and your needs.
For everyday use, you can either go with the Falabella Reversible bag by Stella McCartney or Lulus bags because tote bags will be the most convenient.
If you're still going to school or college, then the Brave bag from Matt & Nat will be the best and most practical choice.
All that aside, if your goal is elegance and you're looking for a fancy purse that still reflects your delicacy, I'd recommend the Kensington crossbody bag by LaBante London.