Who says you can't be stylish while being an environment enthusiast? Vegan products have been gaining more and more popularity for this exact reason. They use synthetic materials like polyurethane polymer, pineapple leaves, cork, apple peels, and other fruit waste, which resemble leather rather than actual leather.
These products give you the freedom to look fashionable without causing negative repercussions on the environment around us. In other words, they give you the killer look you're aiming for without any killing.
On this list, we've gathered the best vegan crossbody bags, and without further ado, let's check out the goodies!
Comparison Table
| | | | |
| --- | --- | --- | --- |
| Bag | Size | Internal Pockets | Colors Available |
| Hamilton Crossbody Signet | 8.75 x 5.5 x 1.75 in. | 4 | 5 |
| Grace Mini Crossbody Signet | 10 x 7 x 3.75 in. | 2 | 4 |
| Eloise Satchel Signet | 8.5 x 5.75 x 3.75 in. | 4 | 7 |
| Barton Mini | 9 x 6.5 x 3 in. | 2 | 5 |
| Alyssa Double | 10 x 10.5 x 2 in. | 4 | 9 |
| Humble Chic Wristlet | 8.19 x 5.12 x 1.65 in. | 5 | 27 |
| Humble Chic Saffiano | 6 x 4 x 10.5 in. | 3 | 2 |
| Corkor Cork | 9.8 x 7.5 x 0.8 in. | 3 | 4 |
| Ecosusi | 13.2 x 3.9 x 9.8 in. | 4 | 1 |
| Topshop Mini Hero | 5 x 4 x 1 in. | 1 | 2 |
The 10 Best Vegan Crossbody Bags for 2022
1. Hamilton Crossbody Signet – Best Overall
The Hamilton Crossbody Signet is yet another Angela Roi bag that comes with a sleek look. But what makes this one special is that it comes at a much more affordable price than the Grace Mini or the Eloise.
This one comes in black, mud beige, dark green, brown, and gray. The mud beige would suit you quite well if you want to pair your bag with both warm and cool tones.
Like the Eloise, it comes with three open pockets, all of which are covered by the flap. The middle one comes with a zippered pocket inside while the front and back ones don't have any pockets.
What's more, it even adds two smaller pockets between each of the three larger ones to give you more compartments. The accordion-style really helps when it comes to making space when you need to expand the bag.
Unlike the other two, this one comes with only one strap that allows you to wear it as a crossbody bag. The strap is also pretty adjustable so you can fit it to your height.
Best For:
Someone who's looking for an everyday bag with plenty of space and storage options but doesn't want to carry a huge bag or spend too much money.
Doesn't Suit:
Pretty much no one. If you're looking for a crossbody bag, this one's got everything you need.
2. Grace Mini Crossbody Signet – Most Versatile
The Grace Mini is the perfect vegan crossbody bag if you're looking for something that's versatile and well-rounded. Not only because it comes in black, which goes with basically everything, but because it also has a practical square shape. It also comes in deep olive, dark brown, and ash rose.
It's not highly affordable, but its versatility and endless functionality definitely make it worth the money.
To bring out the style of the Grace Mini, the bag is equipped with matte gold zippers and hardware.
The inside of the bag comes with a pretty open design and two pockets on each side: one with a zipper and one without.
What's absolutely lovable about this bag is that it comes with two straps. One option is thinner and longer to be used as a crossbody, while the other is wider or belt-like to be worn over the shoulder.
If you're looking for a daily-use bag and not a special occasion, the Grace Mini is quite a solid choice.
Best For: 
If you're someone that's out all day and can change outfits on the way to the gym from work, the versatility of the Grace Mini would be a life-saver! There's nothing that this bag doesn't match fantastically.
Doesn't Suit: 
People who like to categorize their belongings in their bags. There aren't many pocket options on the Grace Mini, so things can get a little messy.
3. Eloise Satchel Signet – Most Luxurious
The Eloise Satchel comes in a myriad of elegant colors, including black, light mud gray, dark brown, ash brown, deep olive, coral pink, and Biscay green; so, you have plenty of options to choose from.
Although the colors are very fall-friendly, you can wear this bag all-year-round. This is because it's a pretty sturdy choice that looks absolutely elegant and is quite aesthetically pleasing.
It has accordion-style sides that give it a degree of expandability, which makes it quite practical and spacious. As for pockets, it has one in the front that's closed with the big flap and two open pockets. The first one comes with a pocket inside that doesn't have a zipper while the second one comes with a zippered pocket. This means that you get several compartments where you can put different categories of belongings.
Not to mention, the interior's material is faux suede which gives it more of a luxurious vibe than the cotton interior of the Grace Mini.
All of the hardware on the Eloise Satchel is matte gold, which gives it a consistent and graceful look.
Like the Grace Mini, it comes with two straps: a longer one to be carried as a crossbody bag and a shorter one for shoulder or hand carrying.
It's slightly pricier than the average options, but its beauty and practicality make it a worthy investment.
Best For: 
People who love organizing their belongings into various compartments and are looking for a heavy-duty vegan crossbody bag.
Doesn't Suit: 
Everyday use or people who want a very affordable choice. It's also not a great choice for those who like to travel light as it's a bit on the heavy side.
4. Barton Mini – Most Compact
If you're looking for a cute little crossbody bag that can bring along with you pretty much anywhere, the Barton Mini is an excellent choice.
It comes with top handles that allow you to carry it as a handbag and a long body strap that has adjustments to fit your preferences.
The Barton Mini comes in black, ash rose, nude pink, red, and nude blue, all of which are pretty great for summer or spring and warm-colored outfits. It also has shiny gold hardware that adds to the brightness of the overall vibe.
On the inside, you get a big pocket and a small zippered one where you can keep your valuables. The Barton Mini, like the Grace mini, uses cotton material for the interior.
Best For: 
Fashionistas that are looking for a dainty and cute vegan crossbody bag that goes with their summer and spring outfits perfectly.
Doesn't Suit: 
People that are looking for plenty of storage compartments or like to categorize their belongings inside their bag.
5. Alyssa Double Compartment Flapover Bag – Best for Running Errands
At first glance, the Alyssa might come off as a backpack, but when you look closer, you realize it's just a very roomy crossbody bag.
It comes in 9 colors, ranging from classic ones like black, beige, and brown all the way to funky colors like fuchsia, red, and mustard.
They all have the same flap design with two belts and either matte or shiny gold hardware that looks like one of those speed up tracks you'll find in a racing game. I love that design because it just seems to fit the purpose of the bag, which is running errands quickly!
This is possible thanks to the massive storage space it provides you, allowing you to pack so many items, including big books, large folders, or long files.
It even comes with an outside zippered pocket where you can keep items that you want to reach quickly, like your passport, ID, or your change.
On the inside, the Alyssa is divided into two compartments, both of which are lined with this yellow and mauve pattern that gives it a bit of an oriental look.
One compartment comes with a zippered pocket, and the other comes with an open one.
The best part about this bag is that it has a lot to offer at a very affordable price.
Finally, the strap on the Alyssa is adjustable, which means that it's just practical in every way that you could expect from a handy vegan crossbody bag.
Best For: 
Running errands, traveling, and situations that require carrying files, books, and papers.
Doesn't Suit: 
Fancy nights out or situations where you'd want more mobility with a compact bag.
6. Humble Chic Vegan Leather Wristlet Clutch –  Best for Color Versatility
The Humble Chic is pretty impressive in multiple ways. First, it comes in 26 color options, which is way more than one could ask for. Yet its versatility doesn't lie only in the color variation but also in the divisions inside it.
When you unzip the main zipper, the bag opens into three pockets, two open ones on each side, and a zippered one in the middle.
Between each pocket and the middle one, there are some small pockets where you can put credit cards or your ID. You wouldn't think a bag so small can help you compartmentalize your things so much, but it definitely does!
The hardware and zippers come in a shiny gold color and give the bag a stylish design overall.
Moreover, the Humble Chic comes with two straps: a short one that enables you to carry it on your wrist and a long one that lets you carry it as a crossbody bag. The latter has a buckle for length adjustments to help you wear the bag in a way that makes you feel the most comfortable.
Not to mention, this bag comes at less than 50 bucks, which makes it one of the most affordable choices on the list.
Best For: 
Someone practical that's looking to grab many items but doesn't want to be hurdled by a large-sized bag.
Doesn't Suit: 
People who pack a lot of items or have days that include a change of outfits.
7. Humble Chic Saffiano Convertible Handbag – Value for Price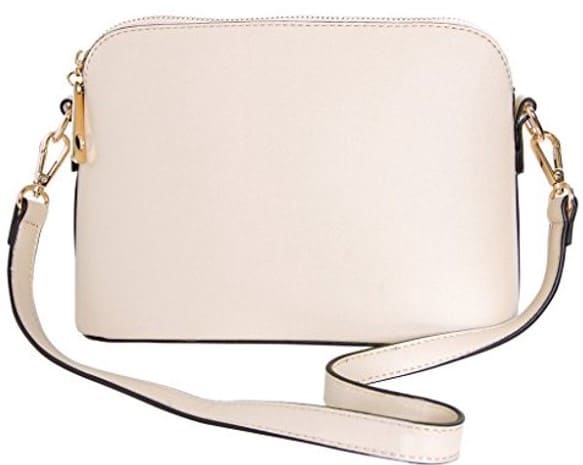 Yet another choice from Humble Chic, the Saffiano bag can be carried as both a handbag or a crossbody one. This is thanks to the adjustable strap that you can fit according to your own preferences or needs.
It only comes in 2 colors, which is a bit of a bummer. However, the black one suits pretty much everything. If you want to liven things up, you can go for the leopard print.
What I really like about the Saffiano is that it comes with hardware and zippers that have a high-quality look and feel. It's even equipped with purse feet that keep it clean if you decide to take it off and put it on a surface. You can tell that a lot of thought has gone into the hardware, which gives this highly affordable bag plenty of value for the price.
On the inside, you get a big open pocket with two pockets on each side, one of which is open, and the other is zippered.
Best For: 
The Saffiano is the ideal bag for someone who's looking for a hard shell yet small choice in which they can pack a lot of things.
Doesn't Suit: 
People who like organizing their belongings in many compartments or those who are looking for plenty of space in their bag.
8. Corkor Cork Purse Crossbody – Most Unique
If you like having a unique and individualistic design when it comes to your wardrobe, you'll love the Corkor Cork Purse.
From the name, it's pretty deducible that this company uses cork as an environmentally-friendly material, and it definitely shows in the design of the bag which comes in all sorts of brown/beige mixtures. All 4 options also include the pattern that is typically found on cork's texture.
Unlike most options, the Corkor uses the same material for the zipper instead of using gold-colored metal, which gives it a more consistent look. And what metal hardware is found on the bag has a silver color.
On the inside, it's a big open pocket with two smaller pockets on each side: one with a zipper and one without. The inside zipper doesn't use the same cork-styled material but employs a colored metal instead. However, it's not the most aesthetically pleasing or high-quality material out there.
Best For: 
People who like having a unique design and are looking for very natural looks.
Doesn't Suit: 
Nights out or outfits that need a bag that pops out.
9. Ecosusi Vintage Shoulder Satchel – Best Classic Design
The Ecosusi is a very classic vegan crossbody bag with an adorable design. It comes in only one color, dark brown, and a box-like shape. It's easy to tell from the stitches, handle, strap, and hardware that this is a quality and durable bag.
There's a little ribbon in the middle of the big flap and two straps made of double belts embroidered with decorative buckles and two buttons.
The crossbody strap comes with a buckle that you can use to adjust the length of the trap according to your own preferences.
On the inside, the Ecosusi has a big pocket with three smaller ones: a zippered pocket on one side and two open -but small- pockets on the other side of the interior. The two small pockets are perfect for keeping small items that may get lost here or there.
Despite the quality of the bag and its convenience, it comes at a very affordable price point, which only makes it even better!
Best For: 
Someone that's going for a classic look and typically carries around smaller items.
Doesn't Suit: 
People that like slim bags or funky look as the Ecosusi comes with a vintage and rather bulky design.
10. Topshop Mini Hero Crossbody Bag – Most Affordable
You know those times when you want to go out with nothing but your phone and wallet? The Topshop Mini Hero is the ideal vegan crossbody bag for this situation.
It's super compact and is basically divided on the inside to resemble a wallet. Slots for your cards on one side and a zippered pocket for the cash or other loose belongings on the other.
It comes in 2 colors, green and orange. But the crocodile-like texture makes the colors stand out a little less.
As for the strap, it's a silver chain that alternates between a rolo-style and a curb-style chain.
In terms of affordability, this one's the cheapest vegan option you can buy on the list and on the market by and large.
Best For: 
Situations where you want to grab one or two items without the hurdle of carrying a bulky bag.
Doesn't Suit: 
People who like to pack a lot or enjoy meticulous compartmentalization of their belongings.
---
How to Choose a Vegan Crossbody Bag
When you're shopping for a vegan crossbody bag, there are a couple of factors that you should take into consideration. And in this little guide, I'll tell you exactly what those considerations are.
Of course, these considerations should be taken into account after you've made sure that what you're getting is authentic vegan leather.
Size
Bags come in all sizes, and you really should form an idea about the size that would suit you best.
If you're getting a bag for everyday use, it should be a medium-sized one to be practical enough to move around without compromising the space in which you can pack your belongings.
A small-sized one that could double as a clutch or handbag is an ideal choice if you're looking for a bit of a fancy choice or a bag that would suit you on your nights out with the girls.
Finally, big ones are ideal for you if you spend your whole day out and move around from one place to another, say from work to the gym, and you need to be packing a lot of essentials.
Divisions
Naturally, the size of the bag would dictate how many items you can bring along. However, a sneaky important aspect is how your bag is compartmentalized.
Some bags come with a big open pocket that's either closed by a flap or a zipper and employ a smaller zippered pocket on one side and another open one on the other side of the bag.
However, some options go the extra mile and divide the main pocket into compartments, each coming with its own set of smaller pockets. Those are ideal for you if you love organizing everything.
Some practical designs implement a pocket on the back exterior of the bag where you can keep items that you'd frequently reach out for and would want to grab quickly.
Color
Most options on the market give you several colors to choose from, but before you decide, make sure the color you pick will suit the function you're looking for. If you want a practical bag for daily use, you should opt for neutral colors like black, brown, beige, or gray.
Winter and fall bags have cooler colors like burgundy and olive, while summer and spring ones have warmer or funky tones like orange, red, pink, and fuchsia.
Finally, some bags give you pattern options like leopard or crocodile, which are ideal if you're looking for a bag that you want for a special occasion.
Straps
While the options I've listed are the best vegan crossbody bags, which means that you get a long strap, you could still make use of the bag if it comes with alternative straps. These include a top handle strap that allows you to carry it like a handbag or even a side handle that turns the bag into a wrist clutch.
Moreover, you should opt for an option with an adjustable strap to suit the style you want to wear.
Sometimes you'd rather have a shorter strap to keep your bag closer to you, while other times, you could make use of the freedom of movement a longer strap gives you, and an adjustable strap gives you the ability to alternate between the two situations.
---
Frequently Asked Questions
What are Vegan Bags?
Vegan bags are those that aren't made from animal skins and furs, even the dyes and adhesives used aren't animal-based. And since leather is the usual suspect when it comes to clothing products, it's always better if you buy faux leather (vegan leather).
Why Go Vegan?
Typically, exotic animal skins, like crocodiles and ostriches, are in high demand. This results in their excessive hunting, which can cause negative repercussions on and damage to the environment.
Going for vegan products, like cotton and hemp or plant-based leather, means that you get the experience of the bag without harming any ecosystems.
Is Vegan Leather Reliable?
You may doubt the reliability of vegan leather, and you should, as the process of manufacturing takes a toll on the quality of the product.
Compared to leather, faux leather is actually extremely durable. Not only is it a lot cheaper, but the material is a lot sturdier and doesn't rip. Usually, faux leather is also less prone to scratches and scraping.
What's more, it's a lot easier to maintain and isn't stained as easily. Not to mention that it's water-resistant, so it's a lot easier to clean.
As opposed to real leather, it doesn't fade with exposure to the sun and is more capable of surviving major cuts.
This is mainly because faux leather has qualities that are similar to plastic, which is why it doesn't absorb water and doesn't peel off.
What is Vegan Leather Made Of?
Vegan leather is pretty versatile and can be made from a myriad of materials. These include glazed canvas, naturally-derived materials, waxed canvas, PVC, or polyurethane, which is the most harmful of them.
While all of these contribute to sparing animals, not all of them completely eliminate threats to the environment.
So, you should pick materials that don't have negative manufacturing consequences and which are biodegradable in the long run.
That's why natural elements like plant-based leather or cork and others are your best bet.
How to Make Sure Synthetic Leather is Vegan?
To make sure that the synthetic leather in question is truly vegan, you should read the label. You could also find a sticker or a symbol at the bottom of the top of the garment that indicates that the product is vegan.
To be even more confident, you should feel the material. Synthetic leather has a slightly different feel and texture, especially that it doesn't form a patina like real leather. What's more, it's less breathable as the pores printed on the surface are artificial.
Final Thoughts
You could have mistakenly thought that finding the best vegan crossbody bag would be an impossible task, but there are plenty of gorgeous options that provide you with both style and functionality.
If you're looking for the ultimate best, I'd recommend the Hamilton Crossbody Signet. This mid-sized bag comes in 5 elegant colors, has an adjustable strap, decent compartments, and simply looks stunning.
Another great option is the Grace Mini, which is slightly more versatile and practical, yet less affordable.
The Eloise is a bit pricier than the previous two choices, but it flaunts such a quality, sophisticated design that makes it worth every last penny. If you want to look dashing on a night with a cruelty-free bag, it's definitely the one for you.
If you're looking for a more practical choice that you could wear in the spring or summer, I'd highly recommend the Barton Mini as it comes in a nice selection of warmer colors and pastels. It's also a pretty compact choice that wouldn't hurdle your mobility.
Finally, I'd recommend the Alyssa Double for anyone who's looking for a practical vegan crossbody bag that's roomy enough to pack plenty of belongings, including large textbooks, files, and papers.