Email & Website
Translate
Subscribe!
Now you can subscribe to this blog and receive daily updates of all new postings direct to your mailbox:
Get Vegan Tees!
GetVegan.com is a not for profit operation -- our educational mission does not involve a price tag and you are not our consumer! Still, in the overdeveloped world in which we have come to exist, even running our website begins to have a cost (a rather high cost) associated with it.
We hope that you find the information available here helpful. If so, and if you can afford it, we would like to offer one of our high quality, Champion 100% cotton, crew neck tees (featuring our unique Don't Get Mad, Get Vegan! logo on the front and our getvegan.com url on the sleeve) as a thank you gift for a mere $15 donation to our site. This first batch comes in tech orange and neon green...
Please donate now and fill out the information at Paypal -- including a shipping address and what size tee you wear (L or XL only) -- and we will be glad to send you your own GetVegan.com tee right away as our way of saying thanks back.
Blogs & Links & People
Audio & Video
Archives
Rate Vegan Blog
Saturday, May 22, 2004
South Africa's Tahr: An African Snakehead?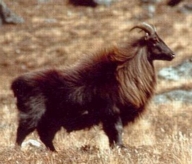 This story touches on a few important issues.
Firstly, the improper bureaucratic and absolutist mindset of some governmental authorities when they attempt to manage ecosystems. As the article below notes, the official reason that the tahrs are being unnecessarily killed by South African officials is because a totalizing "eradication" policy exists for all non-native species, and freed of a legal suit by a pro-tahr group (who dropped their suit upon learning of a capture, neuter and release plan in the works), the government felt legally bound to destroy the population in question. The irony here is that if a workable plan to save the tahrs did not exist and if the government had not agreed to it, then the pro-tahr group would not have dropped its legal case and the animals would still be safe, as plans continued to remove them peaceably. So the "letter of the law" technocratic attitude ends with unethical murder -- the lesson to be learned is that administrative bodies need to learn to exploit the grey area of leadership and civic imagination in the name of ecological good, on the one hand, and, on the other, that groups involved in attempting to save animals or protect habitats simply cannot afford to fail to press their case to the full extent of law.
Secondly, we need to think about the rights of invasive species and the ethical behavior due to them. On the one hand, the tahr which were introduced by the imperial capitalist Rhodes were improperly made a zoo species. Escaping from the zoo meant an immediate good for them, but also placed them as colonizers into a South African region unprepared for the dynamic stress which the tahr would catalyze. Without predation, and with the ability to out-compete other native species for food, water, or shelter, such invasive species can in fact do great harm to existing habitats. From the perspective of utility, one might reason that killing invasive species is a public good for both people, animals and nature because it acts in defense of a post-colonial politics. But I would argue that we need to examine other lines of argument that examine how we can best effect progressive cultural interactions while also protecting and revering all beings to the degree possible.
This brings us to a third and final point about the attempt by activist groups to capture, neuter and relocate these particular "problem animals." The decision is a compromise plan that aims at a humane ethic and it is one that, in this case, faced with the alternatives, I would defend and continue to encourage. However, it does actively interfere with the tahr and it does so in such a way that the death of the herd is ultimately pre-determined, much in the way that we now counsel people to manage feral populations of cats in the United States. Also, by proposing the move of the tahr to another location, the implicit conclusion was that the tahrs' ability to out-compete species in the game park and stress that habitat was an acceptable outcome in a way that the same behavior at Table Mountain was not.
What we should begin to understand and contemplate, then, is that the globalization of species carries with it a wide diversity of narratives that will involve both progressive and regressive politics. We need to examine each case of so-called invasive species from an ecological standpoint but also from a perspective that will account for the history behind and ethical concerns due each "alien" animal (or plant). Further, we need always to keep an eye on what our management -- for good or ill -- of invasives also produces: a tale and history about who we are as peoples and societies. For just as Cecil Rhodes' uncritical choice to bring Tahr to South Africa said one thing about his time and culture, so our's is telling another of equal importance. So far it seems to be more a tragic tale about legality, technocracy and efficiency under the rubric of the desire for national self-determination and post-coloniality. But there is also a competing history of international teamwork, animal rights, and humane concern. How will the story end, I wonder?
Via:
Telegraph UK
The culling of rare shaggy-coated Himalayan tahrs on Table Mountain has sparked a protest led by a Scottish animal charity which accused the South African authorities of a "disgraceful act of betrayal".

The reclusive relative of mountain goats has been thriving on the rugged, well-watered plateau overlooking Cape Town since escaping from a zoo in the 1930s.

Table Mountain, which is world famous for its delicate ecosystem known as fynbos, is visited by tens of thousands of tourists each year and visitors often get a sight of tahrs.

Environmental damage caused by tahrs eating and trampling vegetation led conservationists to put together a plan to capture the current population, estimated to be about 100 strong, sterilise them and move them to a game park several hours away.

But authorities at Table Mountain National Park reneged on the deal and brought in marksmen who began shooting the tahrs last week and plan to eradicate the entire herd.

"In 25 years of working in conservation I have never come across a body that has acted so disgracefully," said Les Ward, managing trustee at the Edinburgh-based Marchig Animal Welfare Trust, which agreed to fund part of the relocation.

"It has led me to doubt the sincerity of these people at the national park. We had put all the ingredients in place to fund the capture, to sterilise the animals, to find a secure place for them to live and all with expert veterinary oversight from a professor at Pretoria University. And they have thrown it all back in our faces - it is disgusting."

A statement issued by Table Mountain National Park expressed sadness at killing the tahrs but said the park had received legal advice that it would be vulnerable to litigation unless it went ahead with the cull.

The park's legal adviser was unavailable to substantiate this claim, which was described as "ludicrous" by Mr Ward and others campaigning to save the tahrs.

The tahrs were imported to Cape Town by Cecil Rhodes, the 19th century imperial adventurer, for the zoo on his Groote Schuur estate at the foot of Table Mountain.

A pair escaped in 1936 and bred prodigiously. The decision in 1999 to eradicate the entire herd sparked a long-running public debate.

A group calling itself the Friends of the Tahr launched a legal challenge to stop the slaughter but after the involvement of the Scottish charity the decision was taken to withdraw the court action to allow the animals to be captured, neutered and relocated.

The park claimed the court action was dismissed, not withdrawn, and this forced it to go ahead with eradication.

South Africa has a policy of eradicating "alien" species of animals and plants which have been introduced since the colonial era and have thrived to the detriment of the indigenous environment.

An adult tahr weighs as much as 220lb and grazes in herds, damaging the fynbos significantly.

The park plans to replace the tahrs with the indigenous klipspringer antelope which weighs only 26lb, is solitary and causes a manageable level of environmental damage.
Friday, May 21, 2004
Vonnegut on Animals
Kurt Vonnegut
is now 81 years old and when he's not drawing or sculpting, he's still sounding out with his idiosyncratic, irascible and humorous takes on life. His recent political piece,
"Cold Turkey"
sounds sort of like a Walter Matthau script seen through the theoretical individualism of the later
Christopher Lasch
, with just a drop of the dying Mark Twain for good measure. In it, Vonnegut ambles through an arch-polemic against the Enlightenment project's dream of a humane and rational civil society. Instead, he sees only morbidity, stupidity, and comic weakness. In the end, Vonnegut conjures the vision of an addicted society, with our leader-pushers running gang hits on one another in order to control the last vestiges of the junk market.
William S. Burroughs
with a fossil-fuel conscience.
While the new essay is arguably too nihilistic and pessimist in tone, the main problem with "Cold Turkey" is its use of a speciesist zoo-logic to drive home comic points about our unending barbarism. Vonnegut begins by defining human beings as chimpanzees made crazy with power. On the one hand, this image is meant to deflate our own evolutionary self-satisfied sense of importance, pointing out the continuity we share with apes and other animals. But, unfortunately, this image also attempts to mine a register that is historically racist, imperialist, even sexist, not to mention speciesist, when Vonnegut imagines the chimpanzee to be little more than a lower being prone to hysterics and community madness. This is in direct contrast to earlier work by Vonnegut like
Slaughterhouse-Five
that evokes images of animals -- positive and negative -- in service of a greater commentary on the protagonist, Billy Pilgrim's, social oppression and psychic repression.
Later in "Cold Turkey," in a section on George W. Bush's long history as a drug-sniffing drunkard, Vonnegut notes how this ended for the President at age 41 in a rebirth experience of the Christ. "Other drunks have seen pink elephants," Vonnegut remarks dryly, in reference to Jack London's own reference from the autobiographical alcoholism memoir
John Barleycorn
. The message Vonnegut wants to deliver is that the President's courting of Jesus the savior is as unlikely as a wrong colored pachederm -- no problem with that, correct? Yes and no. The problem is that in London's hands, the proverbial "pink elephant" is an image that bespeaks of an idealized fantasy animal, a utopian creature that inhabits the space of sotty and imaginative thinking. In Vonnegut's mind, however, this signification then gets further attached to a right wing neocon Christian agenda of globalized America. Poor pink elephant.
Finally, Vonnegut entitles his piece with an animal reference that has additional unfortunate representational qualities. Infamously, the idiom of "cold turkey" is now an expression for the need to radically divorce from one's addiction(s) -- adopted from heroin culture, it spoke to the bumpy qualities of a junkie's skin (like "goosh flesh" or "goose pimples") when going through substance withdrawl. The bodies of fowl themselves reveal such bumps at the points on their bodies where they have been forcibly de-feathered. Further, the original meaning of "cold turkey" -- prior to its connection to heroin -- was "without preparation," denoting the ease and efficiency of serving a cold turkey dinner as a meal. So, in saying that we need to go cold turkey, Vonnegut is in fact subconsciously equivocating our liberation process with the carnivorous (or otherwise) outcomes of our ongoing violence upon poultry.
One can only hope that the emancipation that will result from our overcoming the oppression of the present age in the service of a new paradigm society is as instantaneous and all pervading as deli meat. However, barring that, we'd do better to work for peace between species as a model for the Kantian ideal of an earthbound state of perpetual peace. Don't get mad, get vegan!
Thursday, May 20, 2004
Sun-Sentinel Five Part Series -- A MUST READ
A startling expose on the Marine Park industry and the reality of its records of animal use, capture, and care.
In a five-part series
, the Sun-Sentinel examines the origins and outcomes of the industry, reviewing federal documents never before analyzed even by the government agency that has collected them for three decades. The findings underwrite the long-standing concerns of animal activists and one finds that despite the parks' many claims that they are conservationist in scope and doing important scientific work, that the costs to their own animals are many and that the "stars" of the park exhibits often serve as little more than commodities for drawing large tourist expenditures and grant funding making the industry another exercise in unethical big business. Take some time to read through these many important pieces and teachers and students, especially, should examine the
high quality multimedia presentation
that the paper has put together on this issue.
Four decades ago, hunters off the coast of Washington found the perfect young killer whale specimen swimming with its mother. They fired a harpoon, hoping to attach a buoy to the bigger animal that would make trailing them easier. But the spear went in deep and the mother whale drowned.

The crew made a deal for the young whale with SeaWorld. The company today says it did not know about the capture but it did calculate correctly that crowds would come to its San Diego park for the chance to see a killer whale up close.

The modern marine park industry began with the killing of Shamu's mother.

Since then, the splashing stars have delighted millions. That entertainment, built on a public convinced that sea stars enjoy performing for people, has come at a continuing price to animals even while turning parks and aquariums into a thriving international business. Florida is the center of the U.S. industry with 13 marine attractions and 367 sea animals, more than any other state.

Over nine months, the South Florida Sun-Sentinel examined the history and records of the industry, including more than 30 years' worth of federal documents on 7,121 marine animals the government collected but never analyzed. The investigation found:

* More than 3,850 sea lions, seals, dolphins and whales have died under human care, many of them young. Of nearly 3,000 whose ages could be determined, a quarter died before they reached 1, half by the age of 7.

* Of about 2,400 deaths in which a specific cause is listed, one in five marine mammals died of uniquely human hazards or seemingly avoidable causes including capture shock, stress during transit, poisoning and routine medical care. Thirty-five animals died from ingesting foreign objects, including pennies, plastic balls, gravel or licorice.

* Dolphins and whales have become so valuable, some worth up to $5 million each, that attractions take out life insurance and transport them worldwide for the chance to breed more. About 2,335 marine mammals have been moved one or more times, 11 animals, at least a dozen times. Duke, a sea lion owned by a Mississippi company, holds the record: 19 moves.

* More than 1,600 marine mammals, including the original Shamu, were taken from U.S. waters for attractions worldwide. American parks and zoos have not applied for a capture permit in more than a decade but do not rule that out for fresh genetic material. Other countries still take dolphins and whales from the wild, particularly in the Caribbean, where swim-with-the-dolphins attractions have become increasingly popular. Cuba is now the world's leading exporter of bottlenose dolphins.

* Marine mammals in U.S. parks and zoos are federally protected, but inspectors have been slow to enforce regulations on everything from water quality to veterinary care, even after they document animal deaths. The National Marine Fisheries Service has kept an inventory on captive marine mammals since 1972 but does not fully enforce rules on the reporting of births, deaths and moves of animals, relying on the parks for information. In hundreds of cases, the inventory does not say why animals died or even that they have died.
Wal-Mart, No More Whale Meat Sales in Japan!
This
petition
is asking Wal-Mart to use its economic influence for good -- that they should urge supermarkets in Japan to stop selling whale, dolphin and porpoise meat and demand that the country cease violating the international ban on whale hunting. This seems pretty tame and unrealistic to me, but if its your thing then please sign. Better would be to get this message out widely and to add it to the list of ethical crimes that the Wal-Mart chain commits daily. We already know it to be anti-labor, anti-community, some have charged anti-women. That it supports international commercial whaling is the icing on the cake. People need to boycott this corporation widely and it sounds like its executives are in need of a hello from a
SHAC-style campaign against Seiyu Company
in the name of whales.
Wal-Mart has a major share in Seiyu, a food chain company that is selling dolphin, porpoise, and small whale products from unregulated, unsustainable hunts as well as large whale products from so called "scientific" whaling. Sales like these bolster the whale and dolphin hunting industry, despite an international ban on commercial whaling.

These sales could be bad for people too, due to mislabeling of whale, dolphin and porpoise products and a lack of adequate government health warnings, most Japanese people are unaware of the risks involved in consuming whale and dolphin products high in mercury and methylmercury.

With over 37% of the shares of Seiyu, and key executives sitting on Seiyu's Board of Directors, Wal-Mart's connection to the continued commercial hunting of whales, dolphins and porpoises cannot be ignored!
Wednesday, May 19, 2004
Ecological Response to Extinction Promoted
The
study summarized below
looks at the ability of communities and habitats to respond to two types of extinction: ordered and random. Ordered is when there is a direct environmental stress and the belief here is that after the stress causes extinction it will leave the resulting community stronger by its de facto ability to survive. But the problem, the study finds, is that not all extinctions are random and, also, since there is no way to predict exactly the food web interactions between species, the loss of any species can result in random effects upon others, causing a wave response of further extinction and community/habitat collapse.
The main point is that people working in conservation can not afford to concentrate on certain "significant" species based on size, intellect, or assumed importance. We need holistic thinking and conservation action that attempts to understand direct effects of habitat stress, while producing broad measures as a long-term protection against it.
Via:
Science Daily
With extinction continuously altering the fates of plants and animals, researchers at the University of Wisconsin-Madison say, it may be extremely difficult to predict which organisms will be the next to cease existing and that the wisest conservation plan is one that reaches beyond a particular species to protect entire communities.

The pair of researchers, interested in understanding what happens when species go extinct, developed mathematical models that look at changes in a community's tolerance to a particular environmental condition, such as global warming or acid rain.

They found that, as individual species start to disappear, two forces begin to act upon a community, making it either more or less tolerant to the environmental condition. One of these forces occurs when species disappear in the order of their sensitivity to a particular environmental factor, with the least-tolerant ones going extinct first.

"We know that some species are more sensitive to environmental stressors," says Anthony Ives, a UW-Madison zoology professor and co-author of the Nature paper. "And they often go extinct in order of their sensitivity."

With the disappearance of organisms most vulnerable to a certain condition, such as the increase of nutrients in lake water, the species best suited for that condition are left behind. This ordered extinction, notes Ives, makes the community as a whole more resistant to that environmental pressure and, in a sense, protects it from future degradation.

"One important message is that if we're going to understand the consequences of extinction, we need to pay attention to order," says Bradley Cardinale, a UW-Madison postdoctoral fellow and co-author of the recent paper. "If species go extinct in a particular order, it is possible for the surviving community to become more resistant overall."

While this finding may sound like good news, there is a downside: The researchers say that a community's resistance to an environmental condition can shift over time due to yet another force - changes in food-web interactions resulting from the extinction of individual species. All species are part of a food web, whether they are predators, prey or even competition. When a member of the food web goes extinct, it indirectly alters the livelihood of the survivors, note the researchers.

Ives explains, "Now free from the species that fed on it or competed with it for food, a species may increase in abundance." By increasing in abundance, he adds, the species makes the entire community more tolerant to the environmental pressure.

However, according to the models, the continuous extinction of organisms from a community ultimately dampens the ability of surviving species to compensate, or increase in population size, and, consequently, makes the community less resistant to changes in the environment.

"The loss of species tends to deplete a community's ability to withstand environmental degradation," says Ives.

Cardinale says that these changes in the food web and their indirect effects on organisms within a community can "change the order of extinction," basically foreshadowing new fates for species. He explains, "A species that seems insignificant now may become important later on once it's released from predation or competition."

Because of the dynamics of the food web, the researchers say it becomes challenging to determine which species may vanish next due to the forces of extinction. This leads them to suggest a more holistic approach to conservation.

"We can't just go out and conserve one species," explains Cardinale. "Because we have no idea what species may make the community resistant in the future, we would be most prudent to conserve as many as we can right now."
More on China and Animals
Unfortunate but unshocking return to anti-animal policy on the part of Chinese authorities. Some were expressing hope because of the
recent overtuning of bullfighting in Beijing
, but as I pointed out, this was a complex political outcome filled with contradictory messages.
Via:
China Daily
Beijing authorities' decision to suspend local regulations on animal welfare has aroused public debate from home and abroad.

According to a draft released by the Beijing municipal government on its web site earlier this month, rules for the treatment and welfare for animals being transported and facing slaughter were to be prescribed for the first time in the country's history.

But the law was withdrawn on Wednesday, just four days later, without any explanation. Sources within the city's Legal Affairs Office said the draft had already been debunked as impractical by experts, and there are no other plans for animal welfare legislation within the next five years.

The International Fund for Animal Welfare (IFAW), a non-governmental organization, said it was sorry to hear about the decision.

"More than 100 countries including some developing countries in Africa have adopted laws against abusing animals, but China has not," an IFAW statement said.
Tuesday, May 18, 2004
Writer Gloria Anzaldúa Dies at Age 61
Anzaldua is probably one of the greatest intellectuals of the present age that you've never heard of, but her importance can't be underestimated. Her legacy will live on in the celebration of "mestiza consciousness" and in new forms of politicized spirituality and cross-cultural hybridities. Her notion of the "borderlands" of existence has had tremendous influence on a variety of movements: feminist, gay/lesbian/transgendered/ chicana/latina. Anzaldua also points to a new paradigm of border relationship between humans and animals and culture and nature, however, and so is equally valuable as a prophetess of an ecological animal liberation struggle. A sad passing of an historic American intellectual, artist, and citizen.
Via:
Santa Cruz Sentinel
Gloria Evangelina Anzaldúa, an award-winning writer internationally recognized as a cultural theorist, died May 15 from complications related to diabetes. She was 61.

One of the first openly lesbian Chicana authors, Anzaldúa had been pursuing her doctorate at UC Santa Cruz. She was a lecturer at the university in the late 1980s.

A versatile writer, she published poetry, theoretical essays, short stories, autobiographical narratives, interviews, children's books, and multigenre anthologies. She played a major role in redefining contemporary Chicano/a and lesbian/queer identities. And as editor or co-editor of three multicultural anthologies, she pushed for an inclusionary feminist movement.

Anzaldúa is best known for "Borderlands/La Frontera: The New Mestiza" (1987), a hybrid collection of poetry and prose which was named one of the "100 Best Books of the Century" by both Hungry Mind Review and Utne Reader.

In describing the book, Anzaldúa said "the Borderlands are physically present wherever two or more cultures edge each other, where people of different races occupy the same territory, where under, lower, middle and upper classes touch, where the space between two individuals shrinks with intimacy."

Anzaldúa's published works also include "This Bridge Called My Back: Writings by Radical Women of Color" (1981), a ground-breaking collection of essays and poems widely recognized by scholars as the premiere multicultural feminist text; "Making Face, Making Soul/Haciendo Caras: Creative and Critical Perspectives by Feminists-of-Color"(1990), a multigenre collection used in many university classrooms; two bilingual children's books — "Friends from the Other Side/Amigos del otro lado" (1993) and "Prietita and the Ghost Woman/ Prietita y la Llorona" (1995); "Interviews/Entrevistas" (2000), a memoir-like collection of interviews; and this bridge we call home: radical visions for transformation (2002), a co- edited collection of essays, poetry, and artwork that examines the current status of feminist/womanist theorizing.

Patricia Morales, executive director of New Horizons School in Soquel, recalled reading Anzaldúa's work while a student at UCSC, and meeting her on a couple of occasions.

"She was a great inspiration to Latina writers in general," said Morales. "I personally love her poetry."

Anzaldúa's awards include the Before Columbus Foundation American Book Award, the Lamda Lesbian Small Book Press Award, the Lesbian Rights Award, the Sappho Award of Distinction, an National Endowment for the Arts Fiction Award, and the American Studies Association Lifetime Achievement Award.

Born in the Rio Grande Valley of south Texas, she was the eldest child of Urbano and Amalia Anzaldúa. She received her bachelor's degree from Pan American University and her master's from University of Texas Austin.

She is survived by her mother, Amalia; sister Hilda; two brothers Urbano Anzaldúa Jr. and Oscar Anzaldúa; five nieces, three nephews, 18 grandnieces and grandnephews, a multitude of aunts and uncles, and many close friends.

Colleague Irene Reti said a public memorial will be planned at a later date.
On the Radio!
Update
: Download and listen to the archived 30 minute interview:
Part 1 (mp3)
and
Part 2 (mp3)
.
-------------
Was happily contacted by Lauren Corman of Animal Voices recently and asked to do the show -- a real honor. It'll be about 8:15 am (PST) for me so I hope my brain is working!
Via:
Animal Voices Radio
***Animal Voices, Toronto's only animal rights/liberation radio program,
airs live every Tuesday 11 am - 12 pm EDT at CIUT 89.5 FM or www.ciut.fm. Tune in for a weekly update and editorial on animal-related news, as well as engaging interviews with activists and academics.***

Tomorrow we will be speaking with Richard Kahn, Chair of Ecopedagogy at the UCLA Paulo Freire Institute, about his thoughts on critical education, environmentalism, veganism, animal rights, and cyberculture. (It's going to be a packed hour!) Richard is currently studying with Douglas Kellner, with a focus on "thinking about how the revolutionary developments occurring between humanity, the culture of technocapital, and nature affect the future course of progressive left radicalism"(www.cala-online.org/boardmembers.html). In addition to his Ph.D. research, Richard is the Director of the eco/animal rights/veg website, GetVegan.com, where he publishes his Vegan Blog: The (Eco)Logical Weblog. He is also a director with The Center on Animal Liberation Affairs.
Monday, May 17, 2004
Packrats Hooked on Freecycling
Get into freecycling for yourself at
Freecycle.org
. I got turned onto it by mondo permaculturalists
Path to Freedom
here in the Los Angeles area. While Professor DeYoung (below) is of course correct that freecycling doesn't satiate capitalism's drive for the next new thing, I think he is overly skeptical of the power behind this idea. What it does do, and quite well from what I can see, is manifest a workable gift and barter economy at a regional level. In the process it also forms a new network of people who are actively seeking transformation of capitalist culture. It cannot be emphasized enough how important this is. The end of the article below has a good laugh at people asking for new computers and sports cars, and I admit that I have seen these requests too on my freecycle network. However, I have also seen some of these requests fulfilled!
Via:
Great Lakes Radio Consortium
We all have things that we no longer use hidden in our closets, or stuffed away in the attic, or crammed into the garage. It's not that we'll ever use them, but we can't bear to just throw them away. They're still good. Now, a new service is matching up people who want to get rid of things with people who want those things. In part of an ongoing series called 'Your Choice; Your Planet,' the Great Lakes Radio Consortium's Rebecca Williams explores freecycling:

I'm a packrat. I just wanted to make that clear right from the beginning. If you're honest with yourself, you'll probably confess you're a packrat too.

But even I know when there's something taking up space in my house that HAS to go. In the back of my closet, there's a large, heavy, men's wetsuit.

You know, a SCUBA diving suit. A relative gave it to me when he moved away. Now, I'm not a diver. I'm not even really a snorkeler. But I've kept it for two years. You know, just in case.

I need a little help getting rid of things. So, when I heard about freecycling... I thought, "This is it. This will help me face my inner packrat."

Freecycling uses email groups to connect people in their hometowns. It brings together one person with their broken telescope... and that one person who needs - or just wants it.

The only rule - everything has to be free. No money, no trading. And also, you meet the giver or taker in person.

It's Deron Beal's idea. He manages recycling crews for businesses in Tuscon, Arizona. One day a year ago, he found himself with a warehouse full of stuff.

"We had a lot of the businesses we recycle with downtown giving us old desks or computers, saying, can you do something with this. I'll be darned if we got so much stuff in, I figured, let's open this up to the public and set up the freecycle network."

Beal emailed some friends and nonprofits. At first, he says it was just he and his friends giving each other stuff. But in just a few months, freecycle turned into a verb. Beal set up a website, freecycle-dot-org. And put instructions up so people could start freecycling in their own cities. Now, more than 90-thousand people all around the world are doing it.

So... I went to see the freecycling guy in my area, Aaron Liepman. He moderates two freecycle groups. He makes sure everything stays free, and steps in if people start arguing. He also helps packrats like me freecycle.

(sound in, typing)

Aaron sets me up on his computer.

"So, let me sign out and you sign in. (clicking) So now you type in your subject, just like an email message.

RW: "Offer: wetsuit. What else?"

"Wetsuit, SCUBA wetsuit. (crinkles, zipper noise) Looks like it's a size large, that'll be useful information. It has a little hat to keep you warm in the water (laughs)."

(typing out)

We look over my post, and I click Send.

So, I've started cleaning out my closet. But I'm not totally converted to this freecycling idea. I mean, really, aren't we just moving our stuff from one house to the next? That doesn't really cut down on consumption, does it?

I turned to University of Michigan professor Raymond DeYoung. He studies people's buying and recycling habits. He thinks freecycling probably won't change our buying habits all that much.

"Because we're never going to be able with freecycling to get the new, get the novel, get the big, because by definition it's already been bought, it's already old, it's the smaller. So it can't impact our entire consumption behavior."

DeYoung says, for freecycling to really succeed, we'd have to stop getting bigger houses. And stop filling them up with more and more things. But it's hard, even for people who want to try to get by with less stuff.

I guess a wetsuit is a good first step.

It's been a couple days, and I've gotten four messages. The first came five hours after my posting. From Shawn... he wrote: "I'll take the wetsuit." But he didn't sound that excited.

In freecycling, you can use "first come, first serve" to decide who gets your item. But you don't always have to. And I kind of wanted my wetsuit to be appreciated... you know, actually get to see the water. So I waited a couple days. Then, I got Kelly's message. She wrote: "WOW!" in all capital letters and said her son would love the wetsuit... for snorkeling.

So I emailed Kelly. And we set up a place to meet in downtown Ann Arbor.

(street sound up)

"Wetsuit!" (Oh, are you Kelly?) "yeah, I'm Kelly.. (Hi, I'm Rebecca. This is the wetsuit.) Great!"

Kelly's been freecycling for a month. And she says she's hooked.

And judging from the postings, a lot of people are. They seem to like getting other people's beer can collections and turtle sandboxes.

But some on the list worry it's getting to be too much of a good thing. People have started to ask for laptops, and houses... and a time machine, any condition.

"I think because it's so new, some people are asking for funny things, like don't we all want cash, and a Lamborghini (laughs). I just laugh at those and go on."

Kelly says she thinks the network will probably get past that after awhile, leaving behind just the really devoted freecyclers.
Organic Takes Root in Lawns, Gardens
Just being organic is not permacultural, but it is a step. I can't stress how easy it really is to return one's yard to a native and organic space that is both an aesthetic delight to one's community, a food producer, economically and resource sensible, and a sanctuary/habitat for all manner of animals. Since ripping out my green lawn and "going native" I can't tell you the amount of public comment my home has received. Every day people walk by and take a moment to enjoy and tell me how much they love it. Some even ask for tips on how they can do something similar. For me, the sanctuary aspect is the real treasure though. Seeing animals return to the space and use it as a stop over or home and watching a little micro-ecology reconstitute itself in the midst of urban sprawl is priceless.
Via:
Greenwich Time
Mark and Carrie Greenwald's lawn is nothing to look at, but that doesn't keep the couple from boasting.

"We like to say we can eat off our lawn," Mark Greenwald said.

The couple, professional gardeners who used to live in backcountry Greenwich before moving to North Stamford, are advocates of organic landscaping, which means that they abstain from using pesticides and other chemicals in their lawn and garden.

Most people see the word organic when they are at the grocery store shopping for fruits and vegetables. But the concept also extends to gardening and lawn care, and although many landscapers have centered their business around organic techniques for decades, the interest in the topic is on the rise.

Gardening clubs and environmental groups are sponsoring forums on the topic, including the Audubon Greenwich Center, which recently drew more than 50 people to a two-hour Sunday forum about the risk of and the alternatives to landscape pesticides.

"It's probably in part a growing awareness that goes back to Rachel Carson," said William Duesing, executive coordinator of the Connecticut chapter of the Northeast Organic Farming Association, who spoke at the Audubon forum.

Carson was a scientist and naturalist who in 1962 wrote "Silent Spring," which questioned the proliferation of pesticides and its threat to human health and the environment.

Since then, more work has been done to research the health effects of pesticides and other chemicals, many of which have been proven to cause birth defects, mutations and adverse reproductive effects in animals.

The concern about pesticide use is heightened in many residential communities, such as Greenwich, because of its use in lawn care. The U.S. Fish and Wildlife Service has reported that homeowners put much more chemical pesticides on their lawns per acre than farmers use on their crops.

"When we use pesticides, we have to worry about where it goes," John Wargo, director of the Yale Center for Children's Environmental Health and co-author of "Risks from Lawn-care Pesticides," said at the Audubon forum. "Does it get into the food? Does it get into the water?"

The awareness of such risks and the yearning to incorporate pesticide-free techniques into home landscapes has a strong following in New England, especially in this area, said Duesing, whose organization holds classes and issues certificates to landscapers who agree to follow a set of standards.

"In Fairfield County, a lot of people are less driven by the bottom line of what it costs and are able to act on their consciousness," he said.

Most people who advocate organic landscaping say the first step to making the switch to a pesticide-free environment is to take a "live and let live" approach to plants, such as weeds, instead of the marketing message pesticide companies push.

"If we didn't have herbicide, nobody would care about having dandelions in their lawn," Duesing said.

For those who want tools in their gardening efforts, Duesing said, there also are some organic herbicides, including corn gluten meal, a byproduct of the process to make corn syrup, which when used at the right time can inhibit the growth of weeds. Other products include BurnOut, a mostly lemon juice and vinegar mix that can be used to kill plants, including weeds, or Scythe, a fatty acid-based herbicide also used to kill broadleaf and grass weeds.

One of the simplest and most popular ways to rid weeds that squeeze their way through patio cracks is to pour boiling water over them.

Even with all that organic products can accomplish, professional gardeners said there are limits.

"There are some people who just want the perfect lawn and you don't get that without chemicals -- yes, it's true," said Carrie Greenwald, whose lawn is green but is far from perfect.

So the solution, the Greenwald said, is to not expect perfection from a lawn but to revel in the bounty of a vegetable garden, which also is chemical-free and which the couple fertilizes using material from their compost pile.

In the end, tending a vegetable garden may be the best way to understand the benefits of organic landscaping, Mark Greenwald said.

"People actually get that because they get a lot of food out of that," he said.
Sunday, May 16, 2004
A Roar from Animal Activists in China
The article below is a slightly different summary of a longer piece published by the
LA Times
.
This is a very interesting story that is worthy of a research essay -- a number of different factors have come together to stop the introduction of bullfighting but, ultimately, it goes to show the irrationality and unpredictability that can serve as the foundation for political effect. For instance, one of the factors that led to this victory was the way in which moral Chinese traditions of animal respect were invoked to mobilize public support against the immoral tradition being imported from Spain. Local and governmental leaders, then, who either retain hard-line communist ideology against Western imperialism, or utilize such rhetoric to court favor and control the masses, had to affirm the bullfighting ban even though Chinese policy now leans towards a libertarian transnational capitalist economics.
The compromise, then, comes in Bejing's Wildlife Park's change of plan to turn their new stadium into an American-style rodeo. That the rodeo is also inhumane to animals, not socially progressive, and American-style (so imperialistic) appears to have been totally lost on all involved. Well, not all involved, because the increasingly corporate government has been unabashed in its objective to increase tourism into the Bejing region, so importing international style is not just taste but policy.
Further, as already alluded, China's current political base is a tempestuous move to modernize and integrate with the world economy while promoting strategic nationalism where it suits its domestic and multinational advantage. Thus, its televising of Spainish bullfighting on the national channel has served the complex aims of 1) promoting violence as sublimated entertainment (something American capitalism is infamous for in generating consumer desire), 2) courting an open-door cultural policy to the West, and 3) also, ironically, in representing Western attitudes as violent. This final aim was ideologically a key to stopping bullfighting in Bejing as governmental officials became wary of feeding Western media sources with further fodder as to Chinese inhumanity and violence -- a political and economic ball and chain for the modernizing nation.
China's own love/hate relationship to Western cultural attitudes and economic strength plays out strangely, then, in this recent move to deny bullfighting. Therefore, China's claim that its new economy is also leading to new democratic rights and progressive social policy should be treated with skepticism, even though it cannot be denied that as it incorporates elements of a liberal economy, China will demonstrate new found commitments to liberal cultural values such as animal and social welfare.
Via:
Boston Globe
''Spanish Matadors Pack Their Bags for Beijing."

''Local Promoters Salivate Over the Prospect of Bloodthirsty Crowds."

The headlines said it all: Bullfighting was coming to China.

But a funny thing happened on the way to the bullring. In a country known for its often-brutal treatment of animals and its anything-goes capitalism, a public outcry halted the project in its tracks. Chagrined promoters are not talking, while emboldened activists voice hope that their win will help spur new laws to strengthen animal rights.

''This is a very significant victory," said Zhang Luping, head of the Beijing Human and Animal Environmental Education Center. ''It shows that ordinary people's voices can be heard in China and that policies can be changed."

The treatment of animals in China still leaves much to be desired. For-profit zoos often mistreat them, selling unwanted ones as exotic restaurant fare and feeding live animals to other beasts for visitors' amusement

There are thriving markets in ivory, fur, and various endangered-species parts for virility treatments. And live bears are ''milked" of their bile, used for medicine, with implanted catheters puncturing their gallbladders.

But animal rights groups say the attitudes of average Chinese are quickly changing.

Driving the shift, animal rights groups say, are economic, social, and cultural factors that suggest how quickly China is adapting to global sensibilities. ''As people's lifestyles have improved, they've become more and more sensitive toward animals," said Wang Shi, secretary general of the Chinese Culture Promotion Society, a government-linked civic group.

New social structures also have heightened respect for the birds and the beasts. As growing numbers of people move from the countryside into urban apartments, the average family size is declining and the number of people living alone is rising.

This has spurred pet ownership as animals take on the role of companions. Beijing officials got a taste of the new attitude when they sought to discourage pet ownership through high license fees in 1995, a policy that was largely reversed under pressure from outspoken residents.

Activists and sociologists point out that harsh treatment of animals is not a Chinese tradition, at least not an old one. Rural culture has for centuries respected animals, which are seen as an important part of local life, the economy, and people's hopes for success.

During the years following China's 1949 Communist revolution, however, when famines swept the country, and later, as the Cultural Revolution spread social upheaval, there was little worrying about much beyond human survival.

Word of Beijing Wildlife Park's plans to introduce bullfighting -- seen locally as a way to stimulate tourism and promote economic growth -- came in early March from a Communist Party official.

Media reports cited plans to bring Spanish bullfighters to China so the Chinese could learn the trade. European and American bulls would be imported

As word spread, however, animal rights groups kicked into gear. They wrote articles, pressured lawmakers, and held seminars. They marshaled counterarguments. They appealed to Chinese civility. They persuaded National People's Congress representatives, who joined the howls of protest coming from nongovernmental groups across China.

''I was really amazed at the depth of public feeling and anger this bullfighting proposal aroused," said Zhang, director of the animal education center.