Email & Website
Translate
Subscribe!
Now you can subscribe to this blog and receive daily updates of all new postings direct to your mailbox:
Get Vegan Tees!
GetVegan.com is a not for profit operation -- our educational mission does not involve a price tag and you are not our consumer! Still, in the overdeveloped world in which we have come to exist, even running our website begins to have a cost (a rather high cost) associated with it.
We hope that you find the information available here helpful. If so, and if you can afford it, we would like to offer one of our high quality, Champion 100% cotton, crew neck tees (featuring our unique Don't Get Mad, Get Vegan! logo on the front and our getvegan.com url on the sleeve) as a thank you gift for a mere $15 donation to our site. This first batch comes in tech orange and neon green...
Please donate now and fill out the information at Paypal -- including a shipping address and what size tee you wear (L or XL only) -- and we will be glad to send you your own GetVegan.com tee right away as our way of saying thanks back.
Blogs & Links & People
Audio & Video
Archives
Rate Vegan Blog
Saturday, May 08, 2004
It's Not Just Plastic People Anymore: Everything is Littered with the Stuff
This issue should not to be confused with the related (but separate)
dioxin contamination that is mounting globally
through the manufacture of PVC plastic piping, its burning in landfills, and chlorination releases from industrial paper and pulp bleaching. Nor should it be directly conflated with
the known damage done to animals and marine environments
from the large-scale release (mainly from ships and travel vessels) of plastic bags, cups, wrappers, fishing line, etc. Greenpeace has
this to say
about the plastic epidemic generally.
This represents a disturbing new finding -- the ubiquity of plastic micro-pollution. What does this mean as micro-organinisms like plankton become steadily plasticized by eating plastic pellets the size 1/100th of a micron, as they are taken into corals and sea plants, and steadily ingested by larger marine life? What are the effects of having one's digestive tract covered in an invisible layer of plasticides or of having one's cellular processes disrupted by the alien importation of a micro-particle plastic bullet?
The American Plastic Council's Ron Krebs utters typical deflecting jargon when he speaks in the article below of needing to "review" the data...this is industry-speak for "ignore," on the one hand, and "pay a scientist" to mount a counter-offensive against these findings, on the other. I'll cite the experience and work of
Vandana Shiva
as my expert to this effect.
Equally disingenuous is Dow's Tony Kingsbury. What Kingsbury fails to promote is that
providing millions of plastic bags and industrial resin
for coastline cleanup is akin to robbing Peter to pay Paul. Plastic companies love to donate plastic bags because it serves both as a cheap and efficient "public service" tax write-off and it helps to further establish the product as a social norm -- it is a form of subliminal advertising. But as Ocean Conservancy volunteers clean up coasts, who is thinking of the industrial costs to produce the bags being used to gather plastic waste? Who is thinking of where those bags will wind up? Who is contemplating the future return of those very bags upon the coastlines of their children? Who, then, conceives the abomination of the realities of plastics within our bodies proper?
This "return" of the repressed, J.M. Cousteau is correct in pointing out, is the fact of contemporary life. Certainly, education must play a vital role in transforming our collective practices such that a greater literacy may be achieved as regards the toxic outcome resulting from modern industrial culture. But this education is
not
the education that industry reps like Krebs and Kingsbury feel is vitally important. Their united message of "an ounce of prevention" is a greenwash that seeks to free industry of having to take responsibility for its corrosive waste products, to change (and stop, where necessary) its production in the face of global contamination and to invest heavily in alternative measures and means whenever available. Instead, they apply the capitalist logic of maximizing returns and seek to grow an additional institutional apparatus by extending into the educative domain. This at once allows for new organizational development and the financial planning that accompanies it, while normalizing and "naturalizing" industrial products as social standards. Under the schema of Krebs and Kingsbury, plastic is not to be challenged or abolished, but people are to be taught of its many positive uses and how to best dispose of it in an enlightened manner. In the end, then, it is the people who are made responsible for diminishing the harmful impact brought about by industrial manufactures -- and where the people can have no impact on production processes, the industries would avoid making curricular recommendations.
With this in mind, it is highly unfortunate that Cousteau likens nature to "capital" and calls for responsible consumption and life as a sound financial plan. The metaphor is nice in that it calls attention to the fact that our present patterns of production and consumption amount to a radical gamble in which we have staked the entirety of our savings; and as any visitor to Vegas surely knows, it is to the House's advantage to have players gamble from their savings beyond any short-term pots they may have won.
But, no, nature is decidedly not capital -- that is industry logic meant for the consumer. The great mystery of sea life, the bearer of us all, is not a commodity marketplace and there really are no fair trades to be made therein.
We need to start learning how to speak a more radical language -- such as "plastic is petroleum."
We the people don't want a war for oil, and study after study finds that we don't want a polluted Earth or even harm to animals. Well, we have those things and they result directly from the culture and economy of which we are constituent parts. We live and further the aims of a fossil fuel nation.
It is not our duty alone to end that: the burden is upon producers and consumers both. As consumers, however, we do have responsiblities. We must begin to unhook ourselves from the megamachine. We must name it for what it is and speak to what is in our hearts and not that which fills our households.
Only then will the alternatives find uncontaminated soil in which to grow...
Via:
Washington Post
Plastic Debris Found in Oceans: Bits of Refuse on Beaches and Ocean Floor, Study Reveals

Plastic debris dumped in the ocean over decades is breaking into microscopic particles that are cropping up everywhere from beaches to deep ocean sediment, according to a study being published today by a group of British scientists.

This phenomenon has consequences that are just beginning to unfold, the scientists warned.

Widespread littering has led to a steady accumulation of plastic fragments at sea, according to Richard Thompson, a professor at the University of Plymouth.

"It's a cause for concern rather than alarm," Thompson said in a telephone interview yesterday. "There's lots and lots of microscopic bits of plastic. It appears quite ubiquitous. It's likely to be a global problem," he said.

The researchers collected sediment from beaches and from estuarine and subtidal sediments around Plymouth, England. They then examined an additional 17 beaches and looked at plankton samples collected regularly since the 1960s off British shores.

Plastic turned up in small fragments and granules, according to the researchers. Even "biodegradable" plastics leave behind plastic fragments, the scientists discovered, and some cleaning agents contain abrasive plastic bits. "We found plastic archived among the plankton to samples back to the 1960s, but with a significant increase in abundance over time," the authors wrote in today's issue of Science magazine.

Thompson, who received roughly $300,000 in grants to study the prevalence of plastic refuse in the ocean from the Leverhulme Trust, originally funded by a Victorian businessman and entrepreneur, said potentially "it is quite a big problem."

"We need to be a bit more responsible in the way we deal with plastic waste," he said.

Seba Sheavly, director of pollution prevention and monitoring at the Ocean Conservancy, said the study highlights the negative consequences of "poor solid waste management."

"We can fix this. We know better," Sheavly said. "All the rules are out there; we're just not following them."

Rob Krebs, a spokesman for the American Plastics Council, said a lot of the data in Thompson's study "is old, and we'll have to review it."

"The most important thing industry can do about ocean debris is educate each of us about the personal responsibility we have to keep debris from getting into the ocean, no matter what type it is," Krebs said.

Jean-Michel Cousteau, son of legendary sea explorer Jacques Cousteau, said his nonprofit Ocean Futures Society seeks to educate the public about the ramifications of tossing refuse into the ocean and other environmental issues.

"Our standard of living is completely dependent on how we treat the environment," Cousteau said. "We have to look at nature as capital. You either manage it properly and you live off the interest from the capital. The minute you go beyond the interest to the capital you're heading toward bankruptcy."

"What we throw away doesn't disappear. It comes back one way or another," he added.

Tony Kingsbury, a member of the plastics group at Dow Chemical Co., said his group is working with organizations such as the Ocean Conservancy to curb the kind of littering that clutters the world's oceans.

"We've got to get people educated," said Kingsbury, whose group recently distributed a couple million bags to aid refuse-collection efforts. "Things just don't end up in the ocean."
The Greening of Cameroon
Stories of the radical battle for ecological re-habitation that leak in from the margins of global development are of vital importance. People like Kodji Keka need to be valorized and supported because he is literally on the front line of the shock wave. Interestingly, his method of using educative theater places him near a Freirean tradition of intervention called the Theater of the Oppressed and developed by
Augusto Boal
.
Via:
News24.com
The remote north of Cameroon, on the border with Nigeria, is a mix of rocky outcrops and eroded hills, with a surrealistic feeling that is emphasised as the sun goes down and its last rays are reflected against the clouds and natural stone images.
In the small town of Rhumsiki the lives of most inhabitants are interwoven with the landscape where they cultivate crops, tend their cattle and build their homes.
Residents meet under "chat trees" where everything is discussed, including marriage arrangements between the young people of the village. The old soothsayer uses a live freshwater crab to answer questions from his neighbours, and accepts payment for the service from tourists who brave the narrow dirt track to this remote area of his country.
And it is in this village where a man lives who wants to change the perception of his community - to make them believe in a future for Africa.
Parents say he is a witch
Kodji Keka has never heard of the New Partnership for African Development (Nepad) and has no access to radios, TV or electricity. In an area exposed to deforestation, corruption, minimal development and reduced health and educational services, he soldiers on daily, trying to prove he is not mad as all residents believe him to be.
"It isn't fair that a witchdoctor can predict the future, telling people what to do. I can't accept that," Keka says in angrily.
"The system discourages initiative and change. People are negative. I want to show that everybody can change. Here people chop down trees and never replace them. Not only here, but everywhere in Africa. What are we to burn as fuel if all the trees are gone?"
The problems Keka describe, he has encountered at first hand. Unsure of his true age (somewhere between 32 and 38), he explains that after the death of his four brothers, his parents were convinced he was a witch. "I was kicked out of the house and started begging for cadeaux (presents) from tourists in Mokolo, a town nearby."
The staff of a mission school took pity on him and educated him - an intervention that changed his life radically. Later he returned to Rhumsiki, where he realised big tour operators and hotels were making money from the town, without giving anything back to it.
"I have been fighting for eleven years for the money to stay here. We started a business to show tourists the real Rhumsiki by preparing local food and giving them the option of staying with residents of the village."
Naked mountain people
Now he has opened a restaurant called Kirdi (referring to the name Muslims from the north call local people). "It means 'naked mountain people', but I'm proud to be one. I'm proud to call my business by the name," he stresses.
Through his contact with foreigners, he also tries to educate them. "The most positive thing tourists can do is to donate stationery to the school and medicine to the clinic. It can prevent tourism from causing an even greater rift between rich and poor.
"The biggest problem here is that people live only for today, according to the dictates of our culture. It always leads to problems, forcing people to ask for aid. The culture is a clever way of ensuring that a small group gains power over the masses. The system ensures that people remain as they are.
"Religion also causes us to accept suffering, since it promises a better life after death."
Keka adds with a wry smile: "It will keep us down, for ever. There is no ambition. If the government says 'left' everyone moves to the left and if they say 'right' everyone moves to the right."
When he started preaching his ideas, his neighbours made his life a misery. But he never gave up and in 1997 he started planting trees with the idea to perform children's theatre production in the "new forest".
But residents destroyed it when they cleared land by burning everything - a practice that explains the soil erosion.
"I then planted some more trees, but only on my property. It's a battle, but I have 100 trees already," he says proudly.
"We cannot live without trees. We don't need euros or dollars. What we in fact need is for every man to plant one tree each year."
Don't preach to us
When Keka was very young it was still possible to find firewood around his house. Now residents have to walk far to find wood and hunt for animals - a sad tale that is happening all over Africa.
"One day nothing will be left, unless we start acting now. We have to understand our needs and how we can provide for them. There is also no sense in Europeans coming here and telling us not to destroy our forests, when their homes are stuffed with furniture made from African wood."
He says he cannot help everyone, but he is trying to figure out how to change the bigger picture. One resource he uses is street theatre, by means of which he stresses the importance of education and manages to convey his ideas.
In these plays he uses his own children and those of the area to pose certain socio-economic issues to the audience and to ask their opinion. One play, for instance depicts the options open to the village children and how it is likely to mould their future.
People need to be free, Keka believes, but they should have a social conscience.
"I try and change things on a small scale. I don't know whether people in other parts of Africa are doing the same. I cannot say that I'm seeing the changes happening. Maybe after my death. Maybe people will then say I had a role to play."
Friday, May 07, 2004
The Transport of Nuclear Waste: The Web Never Forgets
Responding to a recent query by Michael Meuser of
Mapcruizin.com
, I began investigating what happened to the extremely valuable Nuclear Waste Route Atlas that had been published by the
Environmental Working Group
. EWG had taken the government's various state and national level maps of proposed rail, road, and barge route transport for US high-level nuclear waste, and condensed them into local level maps that allowed one to search out exactly how close one lives to a potential radiological accident.
Apparently, quietly, some time over the last year EWG took down their Nuclear Waste Route Atlas...one assumes under pressure from the United States government and its security apparatus. The idea exists that we don't want to make public the exact routes by which large amounts of radiological material is shipped, for such information can be gathered by terrorists who might then intercept that material towards using it in a future "dirty bomb." Conversely, such shipments could themselves be directly ignited to create an even more immediate threat.
Certainly, broadcasting widely the weak links in the national nuclear waste transport system may be asking for trouble. But I am upset to learn of EWG's decision and I am nervous that a more public statement was not made by them as to the removal of their searchable information. For while the danger presented by moving tons of radioactive material through populated areas and near vast waterways, etc., is considerable, removing the public's right to know whether or not they live on a waste pathway is also considerable, and further it does not remove the extreme public danger posed by a waste transport truck, train, or ship overturning via a typical accident.
The recent disaster of two fuel trains colliding in North Korea, which burned a city to the ground and killed and injured thousands, should serve as a cautionary tale here. If one of these trains had been carrying high-level nuclear waste the resulting disaster would have been akin to the Chernobyl disaster. Now imagine this same accident taking place in an American city such as Los Angeles. Immediate casualties could be upwards of tens of thousands, and as nuclear particles were picked up by the wind and carried, hundreds of thousand more would be subjected to cancer-causing material. The entire region surrounding the accident would be a HazMat disaster area and would require years of intensive cleaning before the danger posed was at all limited.
It is wrong, therefore, for governmental officials to pressure the removal of information from public websites that inform citizens as to proposed nuclear waste routes and the danger such routes pose to particular communities and areas. It is unacceptable that people would be asked to drive on Interstate highway systems unaware that the truck next to them might contain dangerous radioactive materials and it is more grievous that such materials would be delivered through sleeping communities secretly in the dead of night, the only thing standing between apparent normalcy and an American Bhopal being a game of chance.
I encourage the EWG to reconsider re-posting the Nuclear Waste Route Atlas. This especially because due to the deep linking caching done by Internet search engines the entire site has already been archived in numerous forums and so remains directly available to people who really want to find it. In this respect I found it and made a workable back door
here
. Otherwise, the best the public has are
the general state and national level maps provided to our congressional members for their approval
.
We should all evaluate the relevant information on waste transport to the best of our ability and should then contact local or state anti-nuclear groups with any questions that result from these investigations. Chances are that activists involved with this issue will be effectively up-to-date on how the issue impinges upon specific areas at this time and will have campaigns under way which could then be supported and furthered in kind.
Thursday, May 06, 2004
Imperialism: Human vs. Animal / Culture vs. Nature
This image is one of hundreds of new images reported today by the
Washington Post
(Seymour Hersh actually is reporting that there are unspeakable filmed videos and that
the extent of this behavior is more widespread and long-lasting than most imagine
). Many other blogs and media sources are doing a fine job at extolling the horror of the human rights abuses being done by American troops and coalition forces in the region. There are plenty of expert and non-expert voices out there analyzing how devastating this is for America's political stature internationally and the way in which it has single-handedly set back any progress against lessoning terror by a generation. So I don't need to say more about that here except to say that I am equally outraged and demand that while "heads" should roll, soldiers universally should speak up in condemnation and shame at these behaviors. To the degree that this fails to happen, the public should feel free to withdraw even the slightest tacit emotional support for Americans involved in the War on Terror. In fact, the removal of such support is probably ethically demanded.
What I want to call attention to is the ongoing symbolic use of "the animal" as a socially derisive and impuning meaning. Imperial powers have always staked out the language by which colonizing nations are civilized and human, and colonized regions are barbarous, savage, and akin to animals in a "state of nature." Colonizers are rational and so endowed with rights, whereas the colonized are irrational bodies in need of rational discipline. In the Christian West, one form of such bodily discipline was punishment of the sexual urges -- for it was these through which animal nature was said to assert itself against the common cause of humanity.
Thus, while these photos now released are even more heavily laden with additional meanings, one reading of them is clear. They speak to the age old narrativization of Christian imperialism. The arab is here shown to be in need of taming, control, a short leash (and how far the lash?). Arabs are displayed as polymorphously perverse, engaged in orgies both homo and heterosexual, always naked and at times with bags over their head. That some arabs have been displayed in postures resembling christ on the cross only goes further to reveal how deep the ideological underpinnings of imperial christians (as humans) against colonized arabs (as animal others) run.
Of course, the arabs -- whether enemy combatant or innocent prisoner -- are not the ideological objects that they are being paraded as by the conquering forces. In fact, they too are part of a Western Semitic heritage with its own deep-seated stake in human identity. Thus, what is being done to them is fundamentally a direct insult on their own terms as well. The intended outrage is that they are cast as animals, not humans. Consequently, no one wants to be an animal in this murderous game...and as we unravel the imperial logic herein, we might then go on to wonder if the animals themselves want to be "animals" either?
One can only hope that in having to suffer the immediate and de-humanizing comparison to the Westernized view of the animal that the Iraqi prisoners will achieve a further sensitivity to the plight of the animals generally to which they are being so compared. Perhaps, ironically, these current ignoble experiences can affect some measure of good for them eventually.
For our turn, we Americans must learn a different lesson. We must come to understand how neither the Iraqi nor the hound dog is exactly what they seem to be as we behold them in our eyes. They appear to us ever through a distorted lens, a lens sadly of our own making and spectacular power. We stand in need of another Copernican revolution that reminds us that the form does not arise from the object -- that "to objectify" involves a relationship between oppressor and oppressed, between namer and named.
Disasterously, then, the further we imagine ourselves to be created within a divine likeness that appears in the guise of our own self-image, the further we image-makers go towards reproducing and staging visions of profanity upon those who present us with difference. For "the divine" always needs a counter-point, something by which to base and contrast itself, and that thing historically has been the animal.
It seems that the fate of the world is to be either totally humanized or animalized in our hands and eyes. But we need to see with another vision -- perhaps the sensibility of the animal that makes us over on its terms and which looks upon us in its own way even as we perceive it and close its vision.
Wednesday, May 05, 2004
MTA Hopes to Convert More Drivers to Pedal Power
While Los Angeles County's promotion of biking as a socially beneficial and feasible mode of transportation is to be commended, and while I encourage them to continue to make more bike paths and lanes, there are real issues in a major city such as LA that make of this Ed Begley Jr. holiday little more than a two-wheeled spectacle.
I myself used my bicycle as a primary mode of transport here -- 8 miles roundtrip to UCLA and back a number of times per week. Yes, I was in much better shape. Yes, I took strength from the fact that I was having a direct effect on not contributing to further smog, clog, and noise pollution. Yes, I enjoyed the transformation in the pace of my life as I learned to ride through LA's numerous regions and areas instead of speed through them, teeth clenched and fist in the air at the guy in front of me.
However, I also succumbed to a severe respiratory illness brought on by taking a direct diesel blast from the back of a bus in Westwood one day -- I still see myself pulling up behind the vehicle just as it belched a black pume of ash from its exhaust system right into my already asthmatic lungs. Additionally, I found that as the Los Angeles day heats up, which during the spring and summer is usually by 10:30 and lasts for about 6 hours, ozone levels in the urban air often become dangerous and intolerable. Taking an hour, both to and fro, to work as I did meant baking in sun and being quietly choked in ozone. From the heat alone, I regularly lost two pounds in water weight each daily ride and had to find ways to bring a separate pair of clothing because I would be absolutely soaked by the time of my arrival at the university. Upon arriving home again I would need to change, thus resulting in a threefold increase in my clothing -- which affects the amount of washing being done and so water usage.
Finally, though LA is promoting new bike paths, the fact of the matter is that in many areas -- such as my own -- they are non-existent. Biking to work for me meant riding down busy boulevards with ego-centric Humvee drivers either non-cautious to my existence on the road with them or sometimes outright aggressive, as if my bike was a challenge to their SUV macho. At least twice I was sure that I was going to get clipped by a vehicle going in excess of 40 miles per hour -- something I did not and do not relish.
Thus, while I am happy that LA and the MTA want to promote biking as sustainable and fun, they really need to get serious. Hoping for a 2 percent increase in bikers over the next two decades is an unacceptable goal in a city with the worst air and traffic pollution in the United States. People should be outraged. LA and the MTA need to fund educational ventures throughout all levels of schooling that demonstrate the effects of single-user vehicular traffic and the possibilities of mass-transit in combination with biking and walking. The MTA needs to live up to its legal requirement of putting hundreds of new busses onto the streets and they need to do a much better job of making sure that the system runs efficiently and on time (how many times have I waited an hour only to have 3 of the same bus show up altogether?). We need more bike lanes and paths -- one should be on every major thoroughfare. And finally, the Los Angeles County should institute a parking tax on vehicles that would encourage people to carpool, use mass transit and find alternative transport models like biking. Once the funds of this tax were used to finance the bureaucracy created to institute it, 100% of the rest of the funds should be used to create the necessary viaducts for bikers and walkers, and should go to producing the necessary mass education strategies required.
Via:
LA Times
In this epicenter of traffic, where the rich and famous are usually stuck in congestion like everyone else, actor Ed Begley Jr. has found a humble, two-wheeled way to travel faster.

Since Begley was a boy with a paper route, he has loved riding bicycles. The actor, now 54, still pedals everywhere — to deal-making meetings on the Westside, to visit friends in Ojai, even to a recent film festival in Hollywood.

"My No. 1 form of transportation, the first thing I do, is to get on my bike when I need to get somewhere," said Begley, who lives in Studio City. "It's quicker than being in a car during rush hour … It's an hour and 10 minutes to Santa Monica. It's 25 minutes to Beverly Hills."

Begley and dozens of cycling enthusiasts, riding 10-speeds, mountain bikes, beach cruisers and tandems from all corners of Los Angeles, joined transportation officials downtown recently to promote May 20 as "Bike to Work Day" and to advocate pedaling as an alternative to driving solo.

Begley, who bicycled from his home to the Metro Red Line's Universal City station and then rode the subway to downtown during the morning rush hour, said his entire trip took 22 minutes.

Bicycling also improves one's cardiovascular health, reduces air pollution and saves money, others say.

"We hope more commuters will give bicycling a try and stick with it," said Frank Roberts, vice chairman of the Metropolitan Transportation Authority board and mayor of Lancaster.

When California began "Bike to Work Week" a decade ago, 20,000 to 25,000 people participated, said K.C. Butler, the state coordinator for the event. Last year, the event drew up to 75,000 commuters throughout the state. This year, the state's Bike to Work Week is May 17-21.

Surveys of past participants showed that 30% were new to commuting by bicycle and that 70% of the new cyclists kept pedaling to work, at least every once in a while, more than a month after the event, Butler said.

Within Los Angeles County, 2.4% of all trips people make — whether commuting to work or going to the store — are made on a bike, according to the MTA. The agency hopes to double that figure by 2025. [...]
Tuesday, May 04, 2004
Listen to Us! by Anthony J. Nocella, II and Richard Kahn
This is a new interview piece that I did with fellow scholar-activist
Anthony Nocella
in which we attempt to build a bridge between the American Indian and Animal Liberation Movements. The introduction, though, stands quietly on its own as a sort of manifesto for revolutionary education today. For your interest...the second issue of the journal from which this was taken can be found at the link below.
Via:
The Center on Animal Liberation Affairs
The mantra of solidarity girds most of today's radical groups and revolutionary movements, with seemingly any issue easily replacing the infamous "workers" of Marx and Engels in an updated call of "'x' of the world unite!" But as any member of a militant cell, or even affinity group, well knows, solidarity as an ideal is much different and more easily achieved than the mutual trust and empowerment that is created through ongoing struggle together and the development of a shared history. Real solidarity, then, is a rare bird in a large forest and far from being simply another word for "network," "coalition," or "alliance," it extends through and beyond those meanings to connote loving friendship built upon honesty, respect, and self-sacrifice. Such solidarity as we speak of here is not a value to be upheld, but rather a principle that only emerges from our work together for a better world. It is not a law, or even a code, so much as an evolving language which we are always learning in common – a literacy containing information about our joint enemies and fears as well as our shared joys and dreams.
Too often animal activists, like all other activists, preach when they would do better to listen; they assign responsibility and fault rather than accept accountability and critique of their solutions; they burn bridges instead of animal laboratories and other social horrors. Animal rights activists and liberationists are doing a better job at in-group solidarity – the recent honoring of Rod Coronado and ALF at AR2003 was a benchmark for the movement – and while some such activists remain dogmatically single-issue oriented, most seem to recognize that solidarity with other struggles is not only worthy and right, but is in fact a political necessity. Still, one can spend countless hours searching AR newsletters, magazines, or websites in vain for a meaningful demonstration that animal activists understand, or worry about, how their movement integrates and relates to larger social justice concerns (beyond feminism) and planetary ecological crisis. Part of the reason for this dearth of information is that the movement itself is young and relatively small of numbers, on the one hand, while the average animal activist still tends to more likely be a white, middle-class female, on the other.
Without seeking to denigrate white, middle-class females (or anyone else – save perhaps vicious, bloodthirsty capitalists with a fetish for the animal abattoir), we believe that the demographics of the animal rights and liberation movements must become more diverse and representative of the full panoply of racial, class, cultural and gender differences that are available to inform any group with emancipatory and egalitarian social goals. AR and AL organizations need to become better educated about the broad-base of revolutionary history, and they need to look to begin dialogue and work with other oppressed groups such that they can mobilize greater political solidarity. It is through such dialogical practice, and through involving ourselves deeply in one another's concerns and plights, that the great liberatory educator Paulo Freire thought that we might together overthrow the yoke of oppression and establish a new order of peace, freedom, and decency. Animal rights activists and liberators need to take up a Freirean approach alongside their other compatriots, companeros, and comrades involved in equal (but different) struggles, who, of course, must do the same! Divided, we are all conquered and we need to begin (all of us) to increase our understanding of one another such that together we are more than the sum of our parts.
We can look to figures such as Subcomandante Insurgente Marcos, not as romantic figures of Guevarian warfare, but as a leader who understands profoundly the need to overcome by any means necessary the alienation his movement has faced in the forests of Chiapas. Famously, Marcos signaled a united front for liberation and justice with the left resistance movement in the United States when he wrote a letter on April 24, 1999 to Mumia Abu-Jamal in order to congratulate him on his birthday. Later that same year, in October, Marcos wrote another letter to Leonard Peltier to reach out in solidarity towards the U.S. Native American community. Such behavior is typical of this successful revolutionary leader, as Marcos has strategically sought to build bridges with a variety of different socio-political movements throughout hundreds of countries. To this end, one can look to his numerous epistles and communiqués, which have been published in his books, archived on the web, read at protests, and collected in activist and academic texts translated into many languages. The lesson is very clear, then, as radical activists our job today is not merely single-issue reform, or widespread social contestation, it is also educational – we must do for ourselves what the oppressors by definition deny us, we must learn to love and die for one another. This is the pedagogy of the oppressed.
The following interview is the first of a series in which we engage with leading members of other struggles. The point here is not to offer up definitive answers, but rather to introduce fresh perspectives, to stimulate future questions, and to model how we may critically engage one another such that we move beyond reactionary psychology and politics. Again, solidarity is not merely words on a page – Q&A sessions are fine, but should only be regarded as one small means towards a much greater end. Still, when community is lacking and there is much to be achieved, even a few words between groups can be the start of real power between them. It is our great honor, then, to have had the opportunity to begin a dialogue with Lawrence Sampson, a spokesperson for the American Indian Movement (AIM), the North American warrior society for indigenous rights, ways, and values. At the age of five, Lawrence was the victim of the illegal Indian baby adoption programs the U.S. government secretly engaged in. After graduating college, he joined the U.S. army, where he was a paratrooper, and was involved in combat operations in Panama and Iraq. Besides working directly for the AIM in Texas, his home, Lawrence also represents AIM on the international level, where he recently co-organized the Indigenous World Forum in Ireland.
Interview
Anthony Nocella: Lawrence, I remember the first time we met at the University of Houston…you were speaking and I was tabling. I guess that was the beginning of our life-long dialogue in search of truth. I also remember you had some hesitance in working with me because I was an animal rights activist. Why is it that the American Indian Movement is not supportive of the animal rights movement? I remember speaking to a well respected animal rights activist in the United States involved in protesting the Makah (a Native American nation that hunted whales), and him telling me that he "was not respected too highly by Ward Churchill (the noted Native rights activist)." I assumed why, but I didn't want to go down that particular road that day with him. I also remember where we agreed, in effect, to have a true urban revolution - it was here that we began to speak about COINTELPRO, Che, and the Animal Liberation Front. But, today I want to know your thoughts on the animal rights movement. And how you can support the Animal Liberation Front, but not the animal rights movement?
Lawrence Sampson: I would like to think that the American Indian Movement is supportive of any comprehensive and moral effort that seeks to restore balance to society or to the Earth. However, what we have seen, is that those working for the liberation or benefit of what we commonly call animals, are, from our point of view, still coming from a perspective of human superiority. And as long as you assume your superiority, you will never understand your true place in the overall scheme of things. That is to say, some are still coming from a disconnected, "isn't it cute, we must be the saviors" sort of mentality. These are the same types of folks who happened on the scene in the early 20th century, such as John Collier and the "friends of the Indian", who pushed thru the Indian Reorganization Act, with well meaning, good intentions. The end result is, we are still fighting to throw off that yoke of foreign, oppressive, unaccountable governments, and all the avarices of colonization that their efforts brought with them. Sometimes, liberals are just as destructive as the "conservatives"-the mean spirited haters. See, we recognize that our fate, is the same as all that is natural -- the four legged, the winged, and the Earth. The same folks that wish to eradicate us, remove us, and silence our voice, are the same that would do the same to the other inhabitants of the Earth, and the Earth itself. From where we stand, it does not seem that animal rights activists, for the most part, get it. They are still coming from a disconnected, "we're at the top of the food chain" mentality. Just because you have recognized that animals should not be slaughtered and abused for profit does not mean you have the world all figured out. Instead of telling everyone what they should or should not be doing, why don't animal activists try to listen? Sit down and truly learn about the animals, learn about those who know more about them, that have lived and interacted with them. And yes, those that have hunted them and engaged in subsistence lifestyles, or at least descend from those that have. I hate to sound like some wisdom spouting Indian, but there is much knowledge gained from generations of being a part of an ecosystem-instead of sitting at the head of the table as the master of the universe. I don't think that most animal rights activists understand the knowledge, wisdom, and yes, love that an Indigenous person has of the animals he/she kills in order to survive. And that's the basis of our gulf of misunderstanding. Who better to understand the innate workings of the planet, than those who have had to have that love, in order to survive with balanced living? Who better than those who know what medicines certain animals, and for that matter, plants have within them to help us survive in a balanced way, a way that does not endanger the next 7 generations? I think, and perhaps more assume, that many of those in the animal rights movement, would mirror the demographics of many movements, at least on the surface. I imagine that many of them are mere reactionaries, with little substance to support their views of what they are protesting. And if they are protesting, what are they offering as a solution? You can't just be against things, you have to offer solutions. I mean, you can't really be taken too seriously if you're protesting the use of animal hides in things like shoes and clothes, while wearing your petro-chemical based shoes and attire. Really now, just who do you think you're fooling? I hate to generalize, but we both know this element is well represented in your movement.
I would like to say, that in principle, I support the intention of interposing one'self in order to stop the suffering of animals. Direct action, of the sort that it begins to cost exploiters and inflictors of punishment for their malfeasance, is probably the only thing that will have an impact. It is our responsibility, all of us, as human beings, to defend those who cannot defend themselves. It seems all the corporate entities understand is the profit and loss statements. Their ethics, or rather, their lack of ethics, is guided by one principal, and that is profit. Again, the similarities here are striking; The only time we Indians have ever gotten anyone to listen or pay attention to our issues, is when we picked up a gun, or engaged is some other direct action that caused some seriously deblititating embarrasment, or cost somebody the kind of money we can only imagine or read about. It's a shame that we exist in such an environment, but we don't make the rules, do we? We make do with the hand we are dealt, and right now, the corporate monsters hold all the cards-the police, the courts, and the laws all favor the corporate criminal, and those of us that have to live with their carnage, their pollution, the suffering they inflict, are characterized as criminals, or more recently "terrorists", when we face up to them and tell them "it" has to stop. Further, the ethos of sacrifice is one of many values that are sorely lacking in the dominant society today. We, as Indian people, have always understood that you cannot have a balanced life without sacrifice-it is part and parcel of our cultures, and spirituality. It's good to see that some in the animal rights movement are willing to sacrifice for their beliefs. It goes to show that we have an agenda and underlying sense of responsibility that shares common ground. This is a at least a partial explanation of why I can support those in the Animal Liberation Front in principle, while still decrying much of the animal rights movement, it's participants, and tactics.
Richard Kahn: You briefly touch upon a defense of indigenous knowledge as having a special place in the scheme of the revolution -- I would be interested if you could spell out whether you thought either the AL or AR camps were making overtures in that direction and what possibilities for solidarity might exist. I take it that you see something like the New Age interest in indigenous peoples and shamanism, etc., as illegitimate and unhelpful? Are there any ways in which it might be helpful?
LS: First and foremost, the problem with what is commonly referred to as "NEW AGE" and those who practice it, specifically where it tries to inculcate native beliefs, is that its the same old song and dance, in regards to exploitation. People never seem to want to listen and learn, or when they do, it's so they can become an "instant Indian" and manipulate the teachings, almost always for profit. Really, what we're talking about, is our spirituality. And our spirituality is not a religion. They are lifeways-in other words, a way of living and learning. Non-Indians are generally not pre-disposed to this type of discipline. It's not a go to church on Sunday type of affair. It certainly isn't a for-profit exercise. I know I'm generalizing here, but this is what we are fighting so hard in our community to protect. It's the latest, last stand for our people, to defend our spiritualities. We generally have been willing to share, with some exceptions of course, but those who we have shared with have generally just exploited and twisted what they've seen and heard to fit their pre-disposed industrialized mindsets. Yes, our views towards the other living beings is part and parcel of what others would call our spirituality, therefore one has to at least have an understanding of this to comprehend our views on hunting and subsistence living. But we have to find that happy medium where folks can be exposed and taught without running back to some place in California claiming to be empowered by a medicine man as a Shaman, (a non-Indian word) and running for profit ceremony, or ceremony at all. It basically comes down to respect. It is good that this is getting discussed. In my mind, this issue is the core of our differences.
RK: Also, I had mentioned to Tony, how do you perceive the American Indian's role vis a vis this special place of indigenous wisdom considering the unprecedented physical/cultural/spiritual genocide upon the various tribes and peoples over the last centuries. Much of the scholarship has many tribes effectively displaced, hybridized, and to some extent alienated from their own indigenous wisdom after American attempts at integration/extermination -- many original languages lost, many culture practices degraded, American culture and language either evident or dominant within many communities, etc. To the degree that this is true, might not the American Indian Movement be more tolerable of other's contradictions -- such as the AR movement that is unsure how to replace the factory leather, etc? Perhaps the answer is to work together towards a better approach?
LW: Well, you certainly hit the nail on the head with that one. I want to stress that what is left of Indigenous land holdings, as well as traditions, ceremonies, and overall culture, has been fought and paid for with blood. And so if people will really consider that, maybe they'll understand why it's so important to protect today. The stories of genocide and ethnic cleansing are not words out of a history book, but our family histories. Up thru my generation and even today, our folks are either dealing directly with genocide, or it's fallout and trying to pick up the pieces. If folks can really understand this, they can understand why we are so adamant about protecting our traditions, of hunting, fishing, whaling, etc..Where these things have been lost, it is up to us to do whatever is necessary to bring them back, and that's a very complex thing to do. Because things are not done just for the sake of doing them, because they've always been done. There was reason and purpose in all of it. We believe we are maintaining balance not just for ourselves, but for all mankind and the Earth, by retaining our ways. At times, we've even had to consult with non-Indians who may have documented things in books or in recordings, in order to bring them back. So, that's a classic example of working together to do what we know must be done. We still have a lot of work to do in our own communities, and a lot of healing to do. Over 500 years of genocide and all it's effects do not go away overnight.
In regards to contradictions in the AR and ER Movements, that's a tough question. I mean, our difficulties are rooted in true lifeways and culture, whereas the AR and ER are coming from a moral, ethical, and/or socio-political platform. So, there's a difference there from the outset, as far as where we're coming from. My personal position is, I can be tolerable of anything, so long as it does not, under any circumstances, threaten Indian sovereignty and self determination. But of course, I don't speak for all Indians. And I don't suppose to have all the answers here. But we can definitely empathize with those trying to find their place in this world, especially those seeking a sustainable lifestyle. We definitely have to work together, which could take many different forms. I'd like to see tribal authorities begin a pan-Indian environmental enterprise, to reach out to your Movements, as one example.
AN: In our many discussions the dispute animal rightists have had with the Makah Indians has always been a sensitive issue with you. Do you think the animal rights movement turned their back on the Native American community?
LS: The Makah situation represents all that is wrong with the animal rights movement, from my point of view. Instead of engaging the Makah in dialogue, to understand why they whaled, what significance this practice had to their people, why they voluntarily stopped years ago, why they specifically chose the last few recent years to resume the practice, and why they felt the cultural importance of whaling sufficient enough to re-initiate the practice, Sea Shepherd and others chose to protest. And they didn't just protest. By putting up a phony and inflammatory website demeaning the Makah, and putting out bumper stickers that read "SAVE A WHALE, KILL A MAKAH", they lost the opportunity to learn, and they seriously damaged their own credibility, not to mention the support of Indians for a long, long time. The skyrocketing incidents of assaults on Makah and other Indians in the area was a direct result of the of animal rights activists. It became a racist confrontation, where the white folks, as always, knew better than the Indian. During the weeks of this scenario playing itself out, where the Makah took one whale for subsistence's sake, how many whales did the Japanese, Russian, and Norwegian ship factories kill for profit? 50? 100? Yet these "activists" chose to protest and endanger Indigenous people. Why? Because we are a more convenient, less threatening target? In the end, we see their campaign as one based on racism. The language of dialogue is always better than the rhetoric of confrontation. Your movement lost a vital opportunity here. Think of what of could have been gained.....
This must never happen again, for all of our sakes.
AN: If you were to be heard by the animal rights movement, what would your demands be from to them?
LS: To those who call themselves animal rights activists, I would say the following; LISTEN TO US!! We are the last remaining descendants of those who walked the Earth in balance. Who could you possibly learn more from than those who have an intimate knowledge of what you seek to protect and preserve? Anything else is to merely want to continue your relationship with nature as one of of ignorance, and ignorance will always lead to the very devastation of what you say you wish to protect. Sit down with us, and listen to our stories of where the Earth came from, how the animals came to look and live as they do, why things look and smell and act as they do. Understand the true reason things must be saved and protected. Listen to our stories, practices, and songs, and gain true knowledge. Know that your science does not offer all of the answers to the problems we all face. Listen to us, and we can all help each other. Perhaps we have not done enough to reach out to you. I can say it is most probably because our interaction with others has almost always been based on exploitation, but that we can still do more to reach out to you nonetheless. If we do, will you listen? Will you learn? Will you help to build the bridges that lead to understanding? An understanding not for superiority's sake, but for all those that live here, and the unborn generations yet to come? Try and understand not just the What and the How, but also the Why. What could be a better mission statement for this or any Movement? Respect our ways, and our sovereignty. What remains of them is the last true hope of preservation and conservation. If our voices refuse to be heard, if our ways and our cultures continue to fade, to suffer the same fate as those you would try and protect, then it is as Seattle said, "The end of living, and the beginning of survival".
RK: Finally, in your second mail to Tony, I think you made much clearer the reason why AL (as a liberation struggle that is willing to sacrifice) might be supportable over and against other AR (as liberal reform minded).... which is interesting b/c my experience of liberal reformists is that they hate AR people for being too left and militant, so what we are seeing here is that the general lot of AR appears caught in the political spectrum between the revolutionary left and the liberal left, unable to garner solidarity with either camp thus creating a major fracture and political unviability for the movement. Anyhow, my question to you centers around the antagonism to liberal reform. The age-old argument, of course, is that neither the militant nor the liberal change society but both in effect together, with the militant creating the necessary energy and the liberal providing the socially acceptable platform for change at the right historical moments. I could see why the American Indian Movement might itself question this but I would be interested as to your thoughts. In particular, as I am involved (very peripherally) with the Western Shoshone people in their fight against the government occupation of their land and its desecration as a nuclear graveyard. Corbin Harney is quite specific that he rejects the government's legal right to offer money for the land, but he defends his own right to the land both on the account of its traditional sacredness to the people but also on US legal grounds and the treaty of the 1860's that delimited it to the Shoshone. What I am getting at is a question about the complexity of how revolutionary groups interpret their relationship to the Law of the oppressors. Are attempts to work within the law to be rejected outright as nonsensible, or are they to be used strategically wherever and whenever possible to grab larger spaces back for autonomy and future self-determination and social transformation? If the latter, which is what I take it that the radical Newe Sogobia strategy is -- also their use of white activists, new media, etc. -- then why is this an unacceptable tactic in the hands of animal rightists?
LS: This is an interesting question that I'm not sure how to answer. We in AIM have had to endure those within our own community that didn't like us "rocking the boat", and had faith in the american system of justice. Curious to say the least, coming from an Indian! But this is the case with all liberation struggles. The IRA have the same demographic to deal with in Irish society. We will never have 100% support, even in our own communities. Some folks just want to avoid struggle at all costs, no matter the cost.
As for what is at our disposal, yes we have to be inventive and flexible as to the tactics we use. Sometimes we will have to become part of a process so as to destroy it from the inside. You can't always stay seperate from a system and point out it's flaws. But that is a very complicated thing to do, and decision to arrive at. It can also be very distasteful for those involved. I'm not sure there are any clear and concise answers here. As Indians, we have had to use american law and america's courts to stop the american government, but obviously, that method will not always work. We have to be willing to use a variety of methods to accomplish our goals. It's a delicate process - deciding what to do when. But we have to be willing to do whatever it takes, without limitations, to protect our sovereignty and self determination.
Again, as Indians, our approach is complicated by the fact that we have our own cultural admonitions to deal with, that come into conflict with dealing with America. It is very difficult indeed to reconcile our own belief structure with resistance in some instances. It is a quandry all Indigenous people face. So, it's really a mixed bag for us, with cultural, spiritual, societal, and political concerns to reckon with, while facing the reality on the ground. And this is a problem we will face forever, I suppose.
Monday, May 03, 2004
Two Animal Politics Pieces by Maxwell Schnurer, PhD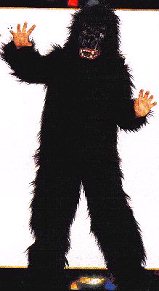 Max Schnurer
also has an interesting piece called
"Activism and Debate: A New Era of Monkeying Around"
at the ASU G-Spot in which he records how friends and he conducted a Situationist experiment in anti-globalization protest by parading around as a revolutionary gorilla engaged in "gorilla warfare." Love it!
Toward a Semiotics of Freedom
Why do some demonstrations, protests, actions and agitation succeed and others fail? As a long-time activist, I have noticed a distressing lack of reflection in the activist community when it comes to activism. The vast majority of political movements seem content to repeat methods of activism that are easy to dismiss and alienating. The primary cause of this short sightedness is the belief that an audience directly receives our messages of protest. I believe that this simplistic model of communication needs to be criticized in order for activist groups to become more effective. In this pamphlet, I address one of the primary failures of the modern activist community – a lack of comprehension of how semiotics constrains understanding of activist messages.
Against Structuralist Semiotic Arrogance
Semiotics is the study of signs – how language and symbols (including gestures and visuals) are communicated and interpreted. People who study semiotics wonder about the connection between the words spoken and the things spoken about. For example when someone says the word "cow" what kinds of visual images, memories and ideas emerge from our own understanding? Consider these examples:
For Jimbo the word "cow" elicits images of idyllic cows chewing their cuds and standing peacefully in a pasture.
For Irit the word "cow" brings forth images of slaughterhouses and suffering veal calves.
For Elena the word "cow" is first associated with a story someone told her that cows lie down when it rains in order to keep the grass under their bellies dry so they don't get colic.
For Mark the word "cow" is connected to the language used to define women as overweight.
For each of these people, meaning is created using their own experience. The word "cow" conveys nothing absolute with it. There is no clear or obvious meaning associated with the word itself because each individual creates meaning out of the context of their own lived history. This concept is identified as post-structuralist semiotics, because there is not definitive structure of language, rather that people create meaning using his or her own brains.
Some might argue that there is something unique in certain words that guarantee they successfully carry their message. I think that engaging this kind of search reifies hope for a structuralist solution. Desperately searching for some connection between the words spoken and the intended meaning can only lead us further down a path where speech acts are self-defined and intention is the only standard for comprehension.
This is a vital issue to address because so many of the struggles those movement activists engage in are associated with language. Fundamental to most people's arguments is the belief that words and symbols have unintended consequences. This is impossible to comprehend if words convey direct meaning because of their "natural" meaning. When someone calls a woman a "cow," the listeners can see this as a serious insult, but the speaker can be referring to the bovine animal. If we acknowledge a structuralist view of semiotics then the listener has simply made a mistake and misunderstood the intention of the speaker. In old communications theory this was called the "static" in the model of a radio transmission – some mis-meaning that is picked up in a communication experience.
This view of semiotics and language is so fundamentally flawed that it must be rejected. Not only because it fails to describe our experiences with language, but because it is a political tool used to avoid responsibility for ones language. People who speak violence into the world rely on structuralist semiotics to defend themselves against the implied meaning that is spoken.
When I was a child I vividly remember an encounter with a student on the playground. He screamed "FAGGOT" at me. When I turned to engage him (I was planning to fight him, not analyze his homophobic language choices), he exclaimed that he meant a bundle of sticks, adding; "it's the dictionary definition of Faggot, I didn't say anything wrong."
What my grade school companion failed to understand was that his meaning was irrelevant to my interpretation of his yell. On the schoolyard in 1984, the cry of FAGGOT had a clear-cut meaning and his choice to defend his words in the notion of intention confused me for a while. He relied on a structuralist notion of semiotics – that he was the master of the words spoken aloud and that any mistaken understanding that I understood was my own.
This controlling impulse – to believe that we are masters of words and that the ideas that we speak into the air are our own is an understandable and yet dangerous idea. Just like other impulses of privilege (women are mine to control, this tree is mine to clear-cut, this animal exists for my consumption), we need to fight
against our linguistic privilege. Those who speak and create symbols need to engage not only in the constitutive (creative) part of message making, but also the interpretive. We need to evaluate and re-evaluate our language for elements of privilege – fighting not only the specific political struggles that emerge, but also the arrogance of structured semiotics.
This essay argues that activists should move toward a semiotics of freedom. Our activism should attempt to transform the cognitive structures that help people to interpret ideas/issues/arguments. More than this, we need to set free our own semiotics – abandoning the false notion that language is directly exchangeable for reality. This is a second meaning to the semiotics of freedom – setting ourselves free from structuralist semiotics.
The Semiotics of Capitalism
Virtually every experience that humans have in the western capitalist society is packaged, marketed and sold to them. Advertising has helped to replace activism and compassion with acceptance and consumerism. People buy things to fit in and fit in only when they buy things. Advertising causes consumption, but the model of semiotics is not quite this simple. Advertising doesn't simply sell products; it sells a way of consuming ideas about products. Advertising is the semiotics of capitalism – inputting ways of understanding phenomena as people experience them.
Capitalist semiotics create the cues and meanings that we engage (buy and tacitly agree with) that allow us to interpret the world. It is important to remember that meaning is not directly conveyed, but rather is created inside our brains from the words and symbols that we encounter. We learn how to react to capitalist symbols, and then store those processes in our heads.
The other morning I ate breakfast with my friend Pete. We were talking about environmental concerns and I was describing some pictures I had seen of a massive section of Antarctica that fell into the sea. I was excited that some information about global warming made it to the front page of the New York Times, but when I was describing this section of ice the size of Rhode Island that fell into the ocean, I used a particular phrase. I said, "this is one HUGE chunk of real estate."
My brain had become cued to think of natural land as real estate. This is not even land that someone could ever live on, but thousands of miles of glacial ice – to think of this as property to be bought and sold is quite a stretch of imagination. Behind this innocent slip of the tongue was a way of thinking about the world that was cued to human needs and financial gain. The problem was not simply the words spoken, but the larger network of meaning within my brain.
Extend the concept further and imagine what Pete thinks about when I say "real estate" to refer to Antarctic ice. My speaking these words aloud in connection with the Antarctic ice does not convey meaning directly. Rather they are subject to Pete's interpretation. Now imagine that Pete has years of meaning stored up with these ideas of real estate. Maybe Pete has seen hundreds of real estate advertisements, and thousands of conversations that helped him to connect a particular meaning of financial gain, private property, ownership, violation of the earth and destruction with those meanings. His reading of my seemingly inane comment will be influenced by those background meanings. When two people share meaning based on capitalist semiotics, activism and freedom lose out.
I could list thousands of areas where capitalist semiotics constrains our meaning. I could write a long essay talking about how pornographic images help to frame our reading of women's behavior or how images and how expectations about food limit, and constrain our eating habits. But I am interested in a particular area of semiotic interpretation: protest. I believe that most of the people we are trying to affect with protest have carefully prepared networks of meaning that allow them to dismiss our protest actions.
Imagine a person driving past a line of twenty demonstrators who are standing on the outskirts of a plaza holding signs protesting a corporation for sweatshop activity. That person has a multitude of semiotic cues that allow them to dismiss, ignore or subvert the messages intended for understanding. They might dismiss the demonstrators as nostalgic sixties wannabes who missed it the first time around. This reading of the demonstration might be influenced by their own experiences during the sixties. They might see the brightly colored hair and punk regalia associated with the demonstrators and fixate on their appearance. The viewer might read the demonstration signs and be confused by their meaning – they might not have the context to connect sweatshops to the Gap or Old Navy.
Structures of power (governments and corporations) do their best to help people read demonstrations in a way to make them easy to dismiss. Most demonstrations against corporations are pushed far away from the site of controversy. Using justifications of private property, plaza and mall owners require demonstrations to happen on tiny strips of publicly owned land next to busy roads, pushing demonstrators hundreds of yards away from their targets. This geographical spacing creates mental spacing for readers to disconnect the action from the issue. Fair media access is a joke – corporate advertising swamps any letter to the editor wisdom or carefully fundraised paid advertisement.
Even tacit support may be symbolic. Imagine that this same group of demonstrators receives a few horns honking of support while they stand on the roadside. A Volvo full of guilty liberals who read about sweatshop labor in the latest issue of the Utne reader swing past our activists applauding their plucky aplomb while heading to the same mall to shop. These sympathetic honking of the horn signify the liberal level of commitment to making real change – a single second gesture whose action relieves guilt while at the same time doing nothing.
Are we any better than the people in the Volvo? If we are willing to go out and demonstrate in the same
ways as people thirty years ago, knowing that our audiences are simply going to ignore and dismiss our message, then aren't we out on the streets simply to make ourselves feel better about a problem? I think that most demonstrations relieve the anxiety of people who feel angry about oppressive systems rather than doing anything about those problems.
Someone might argue that street demonstrations are raising awareness about an issue. I think that capitalist semiotics make any awareness that comes from demonstrating moot. From the side of the road, we can imagine that each car that honks is going to go home and take their Old Navy clothes to the thrift store, and begin boycotting sweatshop stores, but really they won't make any change. They would much prefer to interpret the arguments that we are making so that they are not the subjects of criticism – dismissing our demonstration as 'against someone else.'
Think about the last activist pamphlet that you really read. Did you read it because you were already turned on about the issue and wanted more information? Now, think about the last time you were handed a religious pamphlet. You might have read it as far as realizing that it was propaganda for some church and then thrown it away. Often the creators of religious pamphlets are crafty and will make a well-designed pamphlet that leads the reader along for a while before jumping out with the intent. Our pamphlets do the same kinds of things. Animal rights pamphlets are filled with graphic pictures that will quickly cause a person to toss the pamphlet. Sweatshop pamphlets are filled with information without sources that lead the reader to dismiss the ideas. Our anti-war pamphlets are laid out as though a seven-year old put them together. Activist literature is often created to simply convey a message. To ignore that people are being told all the time to consume messages in a very political way, is foolish. Our pamphlets and flyers often fulfill the predicted expectations of what activism looks like, but these are understandings that have already been colonized. Capitalist meaning-makers have already set us up – people know how to compartmentalize and ignore the criticisms in our literature.
Add to this the physical limitations of leafleting and you are virtually guaranteed that you message will never get out. Most demonstration-level leafleting consists of people handing pamphlets to people as they walk by. If you are able to move a demonstration to a place where there is walking traffic, the goal is usually getting information into passerby's hands. This approach ignores the larger question of whether or not people will ever read the pamphlet. I believe that our information-based campaigns result in a miniscule number of people reading pamphlets. Unless a person is predisposed to read a pamphlet, I think that one in a hundred will ever read the pamphlet you hand to them.
It is important to think about the overwhelming bias of media (including local media) toward the semiotics of capitalism. Most activists are aware that media coverage does not translate into political success. Yet many activists still lust after media coverage as though it were the indicator of success or failure for a demonstration. Capitalist media sources make it likely that a protest message will be edited into a 15-second human-interest piece. Capitalist semiotics makes it next to impossible for a full criticism to ever be read by an audience. It is silly to put faith in major media sources to distribute our messages. More importantly, those who chose to engage with capitalist semiotics will always reinforce the value of capitalist systems of meaning. Even the best coverage of a rally for Mumia Abu Jamal tells people that the television and newspaper news are the appropriate interpreters of events, and that these systems that advertise a way of knowledge have our best interests at heart.
The vast majority of demonstrations, protest literature, and activism that I see and participate in make little or no difference. Capitalism has taught people how to read our actions, pamphlets and signs in order to ignore them, or worse yet, consume them as symbolic actions. Our actions and strategies for activism play into the hands of capitalism, by playing a role of dissent that can be easily ignored. We represent the pressure relief valve of people's conscience.
Toward a Semiotics of Freedom
Despite my scathing criticism of activism, I am an activist and I believe in activism to change the world, but I believe in smart activism.
The vast majority of our protest behavior plays right into the hands of corporations, and governments. I think that we should strive to consider how our messages will be read by the public and more importantly, seek types of activism that operate outside of the expected patterns of behavior. Using semiotics we can help to unpack our own activism and create new kinds of knowledge in people who view our actions.
Once you are involved in a political struggle, your way of reading symbols are turned around. An environmentalist would read a front-page article about a new exercise gym coming to town and interpret new meaning based on their own semiotics. This environmentalist would insert meaning into their reading based on their environmentalism. They might wonder about the damage to the land that the gym was built upon, or the wastewater associated with thousands of showers. An ecofeminist might read with an environmental lens and tie that to the sexist advertisements that are necessary to tell women that their bodies were insufficient and that they needed to go to this gym.
This kind of auto-critical reading happens all the time for activists. One can hardly read the newspaper without running into articles whose core premise needs to be criticized. This ability to self-evaluate information and participate in an active reading is one part of the semiotics of freedom. The meaning of words are not conveyed directly from the writer to our minds, rather we have the choice of how to interpret meaning. This freedom to make sense out of phenomena is a difficult choice. It is associated with our personal decisions to boycott certain corporations, to eat particular ways, and to make personal actions that we believe will make a difference. Our activist choices in our own lives come via significant consideration, so why wouldn't we assume that non-activists would want the same thing?
Our goal with activism should be to encourage the auto-critical process within other people. We are not working to brainwash or convert people to thoughtlessly believe what we believe, but rather to open their eyes and evaluate the world through their own critical facilities. If we chose to play reactive politics, responding to every major media blitz and fighting every battle using the same stale tactics that we borrowed from older generations, then we will lose. Rather, we should struggle to make meaning – to produce ways of understanding the world that can help to crack open the network of capitalist semiotics and allow free thought to bloom.
A semiotics of freedom would overthrow the semiotics of capitalism, by encouraging critical analysis of its meanings. Every person would break down the symbols and messages of advertising, creating their own meaning and becoming active based on their own realizations. Our goals with activism should be to encourage this process, to make activism and protest that encourage freedom from capitalist semiotics and self-rule.
Not all activism plays into the hands of capitalist semiotics. I have gathered a short collection of types of activism that includes in their strategy ways to prevent people from simply dismissing their arguments. These examples suggest patterns of behavior that can clash with capitalist semiotics, but they are not the answer. No single path of activism will guarantee change. And capitalist semiotics are quick to steal opposing messages for the purposes of advertising.
Some activist groups are particularly good with visual graphics that not only catch people's attention, but also call upon the reader to interrogate their own knowledge. ACT-UP, the AIDS Coalition to Unleash Power, is one such group. Much of the visual graphics they used had significant meaning and positioned the reader in a place of responsibility. Actively involving the readers who must involve themselves in order to understand the message helps to cultivate people's critical functions. ACT-UP used the graphic of a bloody hand print along with the statistics of AIDS deaths, the pink triangle (turned right side up) which was the symbol of gays and lesbians in the holocaust. These symbolic posters contested the day-to-day politics of AIDS, but also asked people to reconsider their own understanding of gay/lesbian politics and AIDS.
Food not bombs defies several categories that make most activist groups easy to ignore. The group gathers food that would otherwise go to waste, cooks vegetarian meals and then serves it to the homeless. This is a good example of activism that is not easy to categorize and dismiss. Despite carrying the rhetorical baggage of being a charity, the organizational structure of food not bombs is so different from most charities because it is non-hierarchical, non-institutionalized and generally run by punks. When I was serving with food not bombs in Pittsburgh, I passed a woman who observed the punks and homeless people serving food, she said: "I don't know which ones are the homeless people." I thought this was a great compliment. Being homeless is a stigmatizing label, and the nature of food not bombs is created to avoid that stigma. The food not bombs folks eat with the people they are feeding, sharing a meal rather than serving people in some charity that looks down on people. Food not bombs does good work and challenges capitalist expectations of charity and compassion.
A coalition of animal rights groups around Poughkeepsie New York were planning a demonstration against a pet store at a local mall for selling puppy-mill puppies. Rather than holding signs on the side of the road, they created forty T-shirts and went into the mall to talk to shoppers. Each person bought something small, and then walked around the mall in teams of two or three conversing with shoppers. The shared T-shirts were made with a stencil created by a local artist and spray paint. Rather than being handed a leaflet that they could quickly throw in the trash, dozens of shoppers were engaged in conversations with activists. Each group of activists also had an encounter with security who asked them to leave, and each group had an extended debate with the authorities. Oftentimes, shoppers who had been talking to the activists would engage the police, asking why the demonstrators were being asked to leave. This tactic avoided many the traditional methods that individuals use to dismiss protest, bypassing traditional behavior and replacing them with conversations and unique message space (T-shirts). The pet store was reportedly shut down for the afternoon and the activists worked the mall for several hours.
More importantly, activists had an encounter with authority that was empowering. Most demonstrations tend to be alienating. People gather in a big crowd and listen to an authority figure lecture to them, they meet on the side of the road to be ignored, or they try to leaflet people who don't want to take their information. All of these actions are alienating not only for the audience we want to persuade, but also for the people who are participants in our movements. Most people who are activists will quit in frustration several times a year, oftentimes because of the alienating effect of being part of a movement whose tactics bore them. This pet store demonstration avoided all of these patterns of behavior. People had a good time, had a run-in with the cops where they weren't going to be arrested, but got to make some good arguments, saw the public get behind them against the cops and make an impact on the issue that they cared about.
Billboard modification is another good example of activists avoiding traditional methods of persuasion and seeking to use the symbols of capitalist semiotics against itself. Billboards are invasive methods of advertising whose messages are generally ignored, but seep into our thought processes. Billboard artists will often use paint or posters to alter a billboard to change the meaning. They might change a McDonalds billboard that asked, "aren't you feeling hungry?" to read "aren't you feeling heavy?" Rather than fighting against capitalist meanings, billboard artists use the medium to reflect the message's foolishness back upon itself.
Some activists avoid the traditional dismissals by creating cultures of activism that are radically different from what people expect. Judi Bari, the Earth First! organizer created a branch of Earth First! that was feminist, pro-labor and radically innovative. She attempted to organize loggers who had been previously seen only as enemies of the forests. Her moves to incorporate the loggers in her movement against timber corporations took one of the primary arguments of dismissal away from her detractors. It was obvious that Bari cared about the people who lived in the forests, and more importantly that her moves to protect the forest were tied to a larger sense of passion to save the world and all the people in it. Her activism created inspired tactics. Tying up hundreds of old-growth trees that were scheduled for cutting with brightly colored yarn that would clog up chainsaws. This tactic resulted in pictures of big loggers cutting down yarn with scissors – creating new images and understandings in the viewers.
All of these examples defect from traditional images of activism. This is important, because capitalist semiotics teaches people that they don't have to care about what protesters have to say because we are a lunatic fringe. Activism that engages with people's stereotypes and short-circuits those assumptions forces new thinking. Some of the most innovative activism that has occurred in the last decade has come from Adbusters. An advertising company who have used their design efforts to encourage spontaneous mental resistance, Adbusters has created fake traffic tickets that charge cars (and their drivers) with environmental destruction, mock versions of advertisements that steal their budgets by playing with advertised meaning, and even made a buy nothing day to celebrate not-consuming. Their work pushes the viewer to consider their own role in planetary and social destruction, bypassing traditional methods in order to call people to task. Often they engage people through humor and irony in order to encourage them to listen.
Similarly, the anarchist anti-workers collective Crimethinc uses the medium of books and newsprint to make new mental space. Gathering history, comics, and popular culture into a compelling treatise of freedom, Crimethinc positions the reader as the active part of their own liberation from social norms asking for personal change as the foundation of larger more radical change.
These activist tactics often seem big, alienating and energy consuming. I think that some of the most effective cultural change comes through conversations with peers. It is through relationships that many people change their minds about subjects. Friends of mine have become vegetarians simply because I cooked them good food and they came to understand that they could enjoy vegetarianism. I have persuaded my mom to be critical of overseas development corporations that promise to emphasize birth control. I explained to my mom that a lot of nations are pressured to reduce populations by the USA, and that they push dangerous birth control or forcibly sterilize women in order to get development money. These changes in opinion would not have happened if we didn't already have a relationship. Every time that we create a wonderful vegan meal with people who don't encounter that very often we have made a cognitive change that can be tasted. Every time we talk to someone about a cause that means a lot to us, and make sense to them, we have made a difference that can be understood. We need to circumvent the public conception of activists as judgmental lunatics.
Within this framework, we should still celebrate the unique spontaneous uprisings that emerge. Paris 1968 and the Seattle demonstrations represented mass transformation of capitalist semiotics. Within mass experiences, many of the advertising slogans and rules of the old regime seem decrepit and obviously silly. Within the heated enjoyment of mass eruptions, capitalist semiotics often slip away and new meanings can be created.
Sometimes activists can play with capitalist semiotics in order to expose the lines of power. The pie throwing anarchist collective, the Biotic Baking Brigade displays how media pundits can be turned on their head. In the BBB's video, news anchors can be seen reporting that "secret agent salmonberry" has informed them of something. As they report this event with a straight face, the audience can only see the inability of a capitalist system of meaning to deal with certain events that are outside of the system's own frame of reference. The BBB message of detournement (to turn around) uses the medium of capitalist semiotics (news broadcasts) to display the foolishness of that same system. Unwilling to play with the false system of media control, the BBB use humor to strike a blow for a semiotics of freedom.
Capitalist semiotics thrives in areas where there are no other messages. The feeling of alienation and solitude that many activists face is not a random factor, these cultivated experiences come from the capitalist semiotics that wants us to believe that we are alone and frustrated. Nevertheless, the truth is much more radical, there are activists who are engaged in consciousness raising and protest all around us. One of the best ways to see this is to view it on a video. In the early 1990s, British activists created a series of video magazines that gathered many of the demonstrations that were happening in the UK. Called Undercurrents, these videos created a sense that Great Britain was alive with activists who were fighting, squatting, demonstrating, teaching, and creating arts. In the USA, post-Seattle there has been a plethora of videos documenting the anti-globalization movements. I have discovered that these documentary videos can have a huge impact on the culture of activists. Rather than feeling alone and exhausted, these videos can provide us new techniques and strategies for action. In addition, they show us that we are not alone in fighting for change.
Some activists are able to bring together divergent social movements. Carol Adams has helped to call for a shared struggle between feminists and animal rights activists. Her work calls for the restoration of the absent referent in both struggles. She argues that systems of power remove the essence that makes animals and women lived beings. She calls this the absent referent – the process of removing the cues that make us treat women and animals with respect. Women and animals are reduced to objects and thus treated with violence. She also connects the two processes, arguing that women and animals are jointly reduced though comparison to each other. The struggle for a semiotics of freedom would entail restoring the absent referents for both women and animals. Our goal is not to liberate a group or people, but rather to fundamentally transform the way that we think about the world.
Art, poetry and music are amazing ways to escape capitalist semiotics. Because the meaning is often interpreted through the work with others, these kinds of artistic moves open up space for new meaning to emerge. It is no wonder that most of the animal rights activists I know have emerged through the punk community, because that community helps to create a way of knowing that teaches people to be critical of the capitalist meanings in the world. Poetry slams and underground art galleries all contribute to a way of meaning that is dissatisfied with the current ways of being, but doesn't always have the answer. What these kinds of art teach are that freedom from imposed meaning is possible, but that it requires active analysis. In this self-critical methodology is the possibility for the freedom from capitalist semiotics.
I am a revolutionary who wants real change. I want the world to be a different place. I want humans to stop destroying the earth and animals, I want the oppression of queers and women to stop, and I want an end to injustice and corporate rule. All of these problems hinge on a way of meaning that makes the system of destruction make sense to people. My hope is that we can create activism that doesn't play into these meanings, and instead encourages a free thought and critical action. Activists can strive to make their own actions innovative, thought provoking, and to feel along the fabric of power. If we can help people to make their own meaning, then we can emerge along a semiotics of freedom.
Sunday, May 02, 2004
Cougar in Griffith Park Near Hollywood Sign -- This Won't Be A Photo Shoot
Cougars tend to be solitary animals with about a 200 square mile territory,
so a cougar in Griffith Park is definitely a problem
. It is also problematic that apparently a significant percentage of clueless LA people utilizing the park -- according to the article below -- are not reacting appropriately to the news (they want to "see it", are failing to take notice of advisory signs placed and so are not modifying their behavior accordingly). Californians on the whole tend to be fond of and favorable towards the presence of mountain lions -- Mike Davis, in his book
Ecology of Fear
, documented how donations for the orphaned cubs of a cougar shot in 1994 nearly doubled that of the fund for the two orphaned children of the woman the particular cougar mauled. In 1990, Proposition 117 was passed which outlawed the sport hunting of the animals.
Cougars are mostly nocturnal animals and will shy away from groups, attacking mostly by sneak attack on lone or apparently weak prey. If Griffith Park visitors took the necessary precautions, stayed out of the area dawn and dusk, and walked collectively, the chance of a cougar attack would be drastically lowered.
Here is an opinion piece
to the CS Monitor on cougars and our need to alter our behavior in response to their presence. We are continuingly encroaching on their habitat as canyon homes become de rigeur for upper-middle class families working around Western cities, from Seattle to San Diego. Further, culls of large carnivorous mammals like cougars, wolves, and coyotes have led to surplus populations of deer and other species that now can commonly be found wandering in and around Western urban environments. Cougars, then, can wander into towns and cities as they follow the migration of these herds.
The general consensus amongst governmental experts is that relocation of cougars does not work, and that is promoted as the reason why the Griffith Park cougar may have to be killed. Still, in Nevada, for instance, relocation is considered on a case by case basis. Unless the Griffith Park cougar is an illegal release of an animal that was being raised domestically -- the state of Arkansas, for example, believes that approximately 125 mountain lions are held illegally as family pets -- let me suggest my own expert opinion that this case warrants capture and relocation, not killing.
The main reason relocation is considered ineffective is that such animals respond to being in another animal's territory by retracing their steps and returning exactly to the more inhabited spaces in which it was deemed undesireable or dangerous to have them. In this case, however, the animal apparently miraculously wandered out of the Santa Monica mountains -- following deer -- into the cyberpunk sprawl of the San Fernando Valley, across the numerous Interstate highways, and into the Park for shelter. Or, conversely, it came from the Verdugo range -- following an engineered concrete drainage system. Either way, the animal followed an unworn trail in and probably can't find its way out safely. The chances that this animal would return to the Park successfully, even if it wanted to (which let me state again is highly unlikely), are extremely negligible. Further, with the highly wild and unpopulated San Gabriel range only a few miles to the north, the cougar could be inexpensively placed beyond a densely populated area. For those critics who then argue that the cougar will be in another's area and so will either be fought or starved, I reserve only the comment that this is speculative and that it is axiomatic that it is better to live and chance death in the forest than to die and be denied life in the city.
Rod Coronado is coming into town in two weeks for Total Liberation Weekend. Where are you Rod -- we need you, apparently, a few days earlier! A lion is in trouble here...
Adjusting to a Lion in Their Midst

As dawn broke over Griffith Park on Saturday, hikers and cyclists faced a new reality: A mountain lion had returned to an area where such beasts were presumed vanquished years ago.

And some people came ready to rumble.

Wielding her handsomely carved walking stick, Ann Howard, 63, said she was ready to thump a lion, should it pounce.

"I don't really expect it to do any good, but it gives me a sense of security," said Howard, who was walking alone on the Mt. Hollywood trail.

The Los Angeles Department of Recreation and Parks confirmed last week that a mountain lion had been sighted several times in the last month in Griffith Park. The brief encounters occurred near the old Toyon landfill in the northeastern section of the park, less than a mile as the crow flies from the Hollywood sign.

Los Angeles long ago earned a reputation as a paved-over paradise, and some wildlife experts expressed surprise that a lion, also known as a cougar or puma, could find its way into a park completely surrounded by freeway and city.

Visitors, too, seemed impressed and in some cases both happy and a little fearful about the discovery.

A frequent visitor to the park, Howard said that on Saturday she saw about 10 other women carrying hiking sticks ? something she didn't see two weeks ago.

"It's a fabulous park; we're lucky to have it here in the city," she said. "If the lion came here to live, that's fine with me."

That was not a sentiment shared by others.

"We're not discriminating against lions ? we don't want bears here either," said Mike Johnson, 62, a teacher from Long Beach who was hiking to get in shape for an upcoming trip to the Rocky Mountains.

"They do have a place in nature, and I don't want to see them go extinct here ? they're beautiful creatures," he added. "Any place that is wilderness you want to be as natural as possible, but heavens no ? this is not wilderness."

Johnson thought that, if possible, the lion should be captured and relocated. His fear is that Griffith Park draws an urban crowd unused to hiking in lion country.

Jane Kolb, a spokeswoman for the city parks department, said rangers would continue to take a wait-and-see approach with the lion. She said she was in the park Thursday night and spoke to many hikers, most of whom were intrigued by the news of the cougar and wanted to see it.

She said other wildlife agencies agreed "that this lion isn't bothering anybody, and we don't need to bother it."

Kolb said that should the lion exhibit dangerous behavior, the parks department would notify the state Department of Fish and Game, which could kill the cougar on the basis that it was a threat to public safety.

Fish and Game officials said the agency did not relocate adult lions because they were often killed by other lions already established in the area of release.

"I am personally concerned that such a strong animal found its way to the park," said Tom LaBonge, the Los Angeles councilman whose district includes Griffith Park. "This isn't Yosemite ? but would it be right to go out and hunt the lion at this point? No. The right thing for us is to go make the public aware of it."

Toward that end, the city erected signs last week at many trailheads warning visitors that mountain lions lived in the area.

But not everyone saw the signs.

Tiaran Gorgorian, 54, of Glendale was riding his bike next to the old landfill when he was informed by a reporter that a mountain lion had been on the prowl in that part of the park ? and, in fact, there were tracks nearby possibly belonging to a cougar.

After digesting the news for a moment, Gorgorian cheerfully shrugged and said, "I don't want to be meat," before pedaling off ? perhaps a little quicker than before.

A question that remains is where the lion came from. There are two possibilities: the Santa Monica or Verdugo mountains.

The National Park Service has captured two lions in the Santa Monicas and outfitted them with radio collars so the agency can track them, according to Ray Sauvajot, the chief of planning, science and research management for the Santa Monica Mountains National Recreation Area.

But neither cat has gone east of the 405 Freeway, Sauvajot said. Two other lions with collars are living in the Simi Hills and the Santa Susana Mountains, respectively.

Lt. Martin Wall, a state Fish and Game warden, said that in recent years he had seen plenty of lion tracks in both the San Gabriel Mountains and the Verdugos, and that the lion could have crossed from the Verdugos into Griffith Park via concrete drainage channels.

Paul Beier, a Northern Arizona University professor of wildlife ecology, did some of the pioneering work on cougars in the Santa Ana Mountains in the 1990s. He was almost at a loss for words when informed about the lion in Griffith Park.

"That's an awfully small area for a mountain lion to spend time in," he said. "He can't get out except the way he came in. Let's hope it finds its own way back."

Beier guessed that the animal was a young male that had been squeezed out of its range by adults, or that it had landed in the park after an exploration gone awry.

Hector Vera, 44, wasn't interested in scientific ponderings about the lion.

"This is their home here. We invaded this place," said Vera, of Loz Feliz, while hiking Saturday. "I don't think they're a dangerous animal if they're left alone."

His partner, Felipe Venegas, 34, disagreed. Venegas recalled how their housecat Juanita had scratched a pair of expensive stereo speakers and sometimes acted a tad too aggressive.

If a little cat couldn't always be trusted, Venegas said, then what about a big wild one?